With a renewed fascination about where we came from and who our ancestors were, it's not surprising that some hotels are getting onboard and offering guests some help to answer those questions.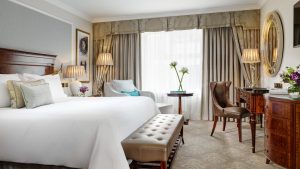 The Shelbourne Dublin has a genealogy butler service ready to dig into your past—in a good way. Its resident genealogist, Helen Kelly, has a great deal of expertise in untangling the complex threads of family history. In a private consultation, she'll point the way to available resources and get the search started with a comprehensive plan.
To nudge the process along, she'll also do one-day guided tours of the various genealogical repositories such as the National Library of Ireland, the National Archives, Registry of Deeds, etc.
If your heritage leans more to the Scottish side of the United Kingdom, you'll want to talk to the tartan butler at The Balmoral, part of the Rocco Forte group, in Edinburgh. Before arriving to the hotel, guests send him the names of any known Scottish ancestors.
He'll dig and use a variety of resources to trace long-lost relatives and to track down your own distinctive family tartan. Then he'll arrange a trip to Kinloch Anderson, the city's most prestigious kilt shop for a fitting to get your own kilt.
Your tartan butler will also arrange a visit to the ScotlandsPeople Centre, home to more than 80 million historical records. Curious travelers can take away a written record of their lineage and spend time in the city exploring the sites with special connections to loved ones they never got to meet.
Edinburgh also offers a number of graveyard excursions, like City of the Dead Tours, so you can find the tombstones of your dearly departed.