Paris, a city rife with luxurious hotels, adds yet another to its list of top-tier properties. As of August, Hôtel de Berri, a Luxury Collection Hotel, adds its five-star flare to the 8th arrondissement.
The hotel takes its name from the historic street on which it's located, 18-22 rue de Berri. Just minutes from the Champs-Élysées, the area is one of Paris's most celebrated high-end shopping districts, home to the likes of Louis Vuitton and Chanel. The address was also the former location of the residence of Princess Mathilde Bonaparte and the famous couturier Elsa Schiaparelli, who, with the help of Salvador Dalí, put Wallis Simpson, Duchess of Windsor, in a lobster-print dress on the night before her wedding to King Edward VIII.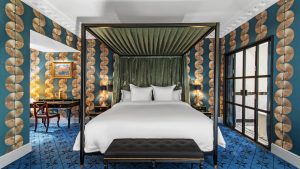 The small property, which features 76 rooms (including 37 suites), takes its Art Deco, colorful esthetic ethos from celebrated French designers of the 20th century. The architect and designers wanted to capture the feel of a contemporary, art-forward Parisian mansion. A very noticeable nod to Italy is evident in the Italian marble throughout the lobby and common areas matched by an equally generous display of French artwork.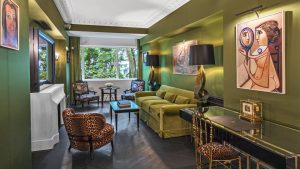 The rooms range in size from 22 square meters (237 square feet) to an impressively large 115 square meters (1,237 square feet). The hotel offers 11 different room designs; choose from dignified black and white décor or go for glamorous and gleeful yellow-, red- or green-colored rooms with whimsical accents (leopard print seating anyone?). Those who elect to go all out for a suite get to choose between a lovely park or garden view, and some even feature fireplaces. All rooms offer Apple TVs, iPads with automated control centers and complimentary high-speed Wi-Fi. The bathrooms are understated elegance at its best with amenities like heated Toto toilets, Italian marble floors and vanities and large marble showers and/or soaker tubs.
While the ambiance emphasizes French style, the dining option at Hôtel de Berri embraces Italian cuisine. Le Schiap serves authentic Italian food for lunch and dinner. Guests will dine on plush, vibrant emerald green seating in a dining room encircled by a unique modern fresco. Le Bizzaz bar, which overlooks the hotel's lush private garden, offers both indoor and outdoor seating and features creative cocktails inspired by popular mid-20th-century libations.
Hôtel de Berri also features a fitness room, complete with free weights, rowing machine, treadmill and exercise bike. Or, better yet, let someone else work out your sore muscles at the sleek spa, which has two Carita treatment rooms, a tropical shower and two Hammams, one of which is exclusively for women. C'est magnifique!
(Photos courtesy of Hôtel de Berri)