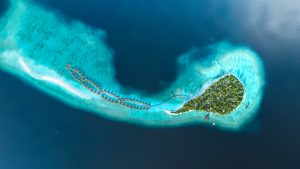 It can't get much more remote than this: Muravandhoo Island on the Raa Atoll in the northern Maldives is ready to welcome Joali Maldives, opening next month.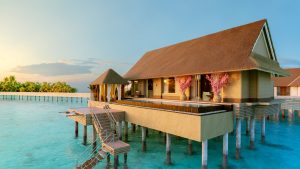 With a primary focus on design, the new resort hits all the right (i.e. trending) notes, its website touting things like sustainable glamour and immersive art. With a total of 73 overwater villas, beach villas and residences averaging at 100 square meters (1,076 sq ft), the Joali offers high-design luxury amid the breathtaking Maldives atoll environment.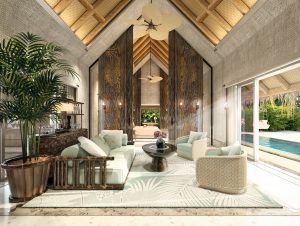 Despite the remoteness, there are a surprising number of things to do—besides eat at one of the four restaurants and sit gazing out onto the ocean from your infinity pool pod, we mean. Leisure activities involve swimming with manta rays, wakeboarding, tennis, yoga, diving and snorkeling. Time is also well spent at the underwater museum, in a flower workshop, in the whiskey and cigar lounge, painting at the art studio, on a chartered yacht cruise or at a local community meetup.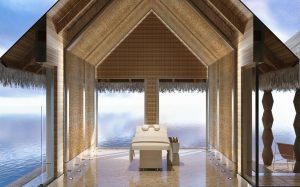 The Joali Spa by Espa is inspired by its tropical surroundings and offers indulgent treatments to settle your nerves, plus a full fitness center to rev you up if you'd prefer.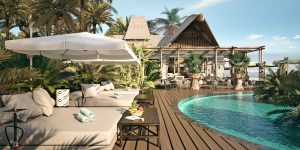 On the culinary side of things, the main Vandhoo Restaurant dishes up the tastes of East Asia, China, the Mediterranean and the Levant, with an exclusive wine list to help wash it all down. Her Kitchen is a place to congregate to learn how to make local recipes with experienced local chefs. There's also a Japanese Peruvian concept restaurant and an Italian restaurant with all the usual Italian menu suspects. The Mura Bar overlooks the white sand and pool, and offers snacks and street food, while playing a big part of the mandatory Maldives sunset ritual.
Guests can either fly direct from the Maldives capital city of Malé to Muravandhoo Island in 45 minutes, or fly from Malé to two other local airports nearby and hop on a speedboat for the rest of the journey. Bon voyage!