The Six Senses collection of hotels have a well-earned reputation for creating an atmosphere of calm and serenity—it's built into the very bones of each property, from the second you enter the reception area and find that there isn't a single slip of paperwork to sign or credit card to swipe (because you've been pre-checked in) to the moment you lie back on your luxuriously-linened king size bed. 'Spa' is the vibe here but wellness comes in many forms, from lying on a lounger all day or flying over the forest during an aerial yoga class. Discover your own version of bliss during a visit to this 19-acre, 57-room Douro Valley estate in Lamego, Portugal.
STREET CRED: IT'S ALL ABOUT LOCATION
Just under 130 km (80 miles) from Porto's international airport and accessible via a stunning drive through winding two-lane roads carved into the side of the Douro Valley or an even more stunning train ride that skirts the banks of the Douro River, Six Senses Douro Valley is the perfect escape: easy to reach but remote enough to feel like you're on a break from urban life (and urban stress).
WHO HANGS HERE: IS THIS THE HOTEL FOR YOU
Surrounded by vineyards on all sides, you shouldn't be surprised to run into a winemaker or two poolside at Six Senses. The old-world appeal of the grape-growing region plus the modern décor and hotel facilities means that the place appeals to a wide variety of visitors, from clean-eating American yogis (Six Senses offers a huge range of wellness activities) to French winery owners looking to learn something new in a neighboring wine-obsessed country.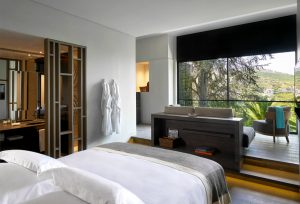 THE STRAIGHT GOODS: WHAT'S IN THE ROOM
Asked to describe your accommodations in one word and you'd likely choose 'oasis.' Unless you're out on your own private terrace, you won't hear a peep from your neighbors or the hotel staff. At the center of each Quinta Deluxe room (495 to 538 sq. ft.) is the kind of bed that, once you stretch out in it, you won't want to leave. Each mattress is handmade in the English countryside from luxe materials like organic lamb's wool.
With its floor to ceiling window, the sitting area feels like an indoor/outdoor space, bringing the Valley's natural beauty right into your room. Even the bathroom, tiled in Portuguese limestone and stocked with locally-made olive oil soaps, feels like an extension of the outdoors—like you're bathing in a natural cave spring. (For the best time you'll ever have exfoliating, sign up for a tutorial at Six Senses' spa "pharmacy" to make your own all-natural body scrub.)
Special touches stand out to make your stay memorable. Straw hats in two different styles are waiting for you to take down to the pool or to keep the sun off your head as you tour a nearby winery. A tablet sits on your bedside table, equipped with custom apps that allow you to dim the lights, close the blinds and order room service. Large closets containing lush robes and woven, eco-friendly slippers provide ample room to tuck away your messy suitcase so that it can't detract from the serenity of the room.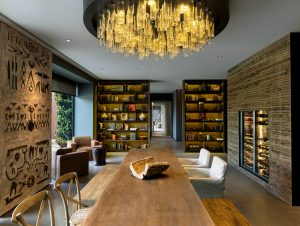 BRAGGING RIGHTS: WHAT ELSE HAS IT GOT?
Ready your smartphone because nearly every square inch of Six Senses presents a moment made for Instagram. Beauty is everywhere, indoors and out, no matter which direction you look. One of the most remarkable views comes during the glass elevator ride that takes you from the reception area to the hotel's guest rooms. The Wine Library feels like the heart of the hotel and features two stunning chandeliers made from wine bottles. Here, you can sign up to taste wines from the region guided by the hotel's knowledgeable sommelier.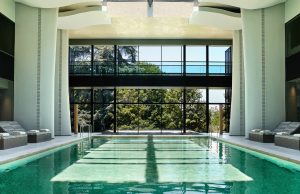 Expansive spa facilities feature a ground level indoor pool soaked in natural light (thanks to a two-story-high window wall) and treatment rooms that look out over the property's well-established gardens. Sign up for a massage, a facial or an herbal sauna to cap off your forest aerial yoga class, a kayaking excursion, a vineyard hike or a meditation session. The activities calendar at Six Senses is packed—although you can just lounge by the vineyard-adjacent pool all day.
While the atmosphere at Six Senses is one of calm sophistication, the hotel doesn't lack options for spirited fun-seekers. Try a tree-climbing class to bring out your inner kid or step outside after dark for one of the hotel's bi-weekly Cinema Paradiso movie nights under the stars.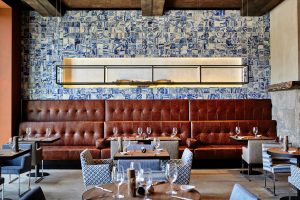 GOOD EATS: COCKTAILS AND CUISINE
Wine, of course, is at the center of the food and drink scene here. There are 700 different bottles available in the Wine Library, highlighting Portuguese wines ranging from the sweetest Port to the driest crisp white, which doesn't mean you can't get a killer craft cocktail from the bartenders in the Quinta Lounge.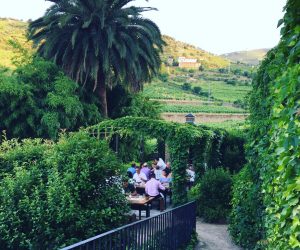 Foodies won't even have to leave the hotel grounds to experience a half-dozen distinct dining options. From Tuesday through Saturday, healthy eaters who refuse to compromise on taste can dine al fresco at The Terroir pool terrace restaurant which stocks ingredients harvested from the hotel's on-site organic garden. Amateur chefs can pick up a trick or two by reserving a spot at the Chef's Table open kitchen. Tapas is available in both the Wine Library and the Quinta Lounge, but the most idyllic dining experience can be found at the communal tables set up next to the large stone barbeque. Seated among the surrounding vineyards, your glass of sangria will never be empty while you're served course after course of grilled meat, seafood and flavorful vegetables. And while the emphasis may be on health and wellness here, you'll still be able to find a perfect pastel de nata (the traditional sweet and creamy Portuguese egg tart) at the breakfast bar.
A FEW OF OUR FAVORITE THINGS: WHAT STOOD OUT?
Choosing the standout moments in an overall standout experience is hard. Was it the innovative self-serve wine-tasting technology that lets you sample a glass of rare vino automatically with just a wave of your room key? Was it the bedding that will inspire you to attempt to recreate the experience with new pillows and linens the second you return home? Maybe the best thing is the overall sense of wellbeing—mind, body and appetite—that Six Senses manages to infuse into your entire stay.
Parting shot: If we could change one thing
The hotel's layout can be a bit confusing, especially on the way to breakfast when you haven't yet had your morning cup of coffee. But even getting a little lost here is a treat—and one way to discover the architectural and artistic gems tucked around every corner.
We found rooms in December 2018 starting at €290 (US$335).
(Photos courtesy of John Athimaritis)
Corrina stayed as a guest of the hotel. The hotel did not have editorial approval.