I found hotel swimming pools intimidating. While I appreciate their allure, they strike fear in my heart. A slew of lounge chairs rims the deck, putting everyone on display like donuts in a bakery showcase. For anyone who has an imperfect body (i.e. most of us), this is an unnerving proposition. Going to the pool becomes an exercise in logistics. You worry about how you're going to cover up (baggy T-shirt or flowing sundress?) and all the crap you have to lug to the pool—hat, sunglasses, sunscreen, book and water bottle. It's a pain.
There's also the issue of noise. Pools, especially the ones at large-scale resorts, seem to attract children who know how to communicate only by screaming and squealing. While parents are quite skilled at tuning them out and can happily keep reading without looking up to see why their spawn are yelling at full volume, I am not blessed with that gift. That makes my chill time at the pool as relaxing as sitting next to a busy highway.
Lovers of aquatic recreation don't need to suffer, as I've discovered. Private plunge pools are the answer. They are all yours and access is by invitation only. Away from the crowds, you don't have to fret about your bodily imperfections or the fact you've forgotten to trim the strange single hair that sprouts from that mole on your knee.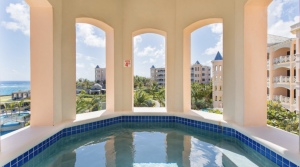 I experienced my first plunge pool at The Crane, a resort in Barbados, overlooking the lovely Crane Beach. My fifth-floor suite had a plunge pool just steps from the balcony. At this property, the circular plunge pools are stacked in a turret that makes an eye-catching architectural detail. Each one was incredibly private, which made jumping in nude all the more appealing. You could pop your head up near the ledge to stare out at the turquoise water. It was sheer bliss. Morning, afternoon and evening dips became part of my routine during my stay. And I was hooked.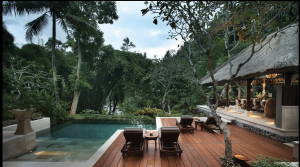 My next round of experiences came in Bali. I was fortunate enough to stay at one of the most beautiful hotels in the world: the stunning Four Seasons Resort Bali at Sayan, near Ubud. The resort was not busy at all. Political unrest at the time scared away a lot of tourists, so the property upgraded me to a villa that included a plunge pool. It, too, was wonderfully private. A thick patch of bamboo shielded it from guests who might be staying at adjacent villas and the pool overlooked a gently flowing stream and a dense tropical forest.
I made good use of the privacy it offered. I had just lost my mom to ovarian cancer a couple of months before my trip. I hadn't really dealt with my grief. I was too busy being strong for others and being stoic while dealing with the details of her funeral. There, alone in the plunge pool, I felt at peace. While I soaked in the warmth of the water, the tears snaking down my cheeks surprised me. For the first time in a long while, I didn't hold back. I allowed a year's worth of bottled-up emotions to flow out of me. By the time I was done, the tips of my fingers had become wrinkled and the light had turned golden as the sun began to set. I was so grateful for that experience.
Luckily, there is no shortage of hotels worldwide that offer plunge pools. You'll find them in any tropical location. Sadly, Canada and the United States aren't leaders in this area, thanks to weather that would leave soakers feeling frigid for at least half of the seasons. Mexico and the Caribbean rule.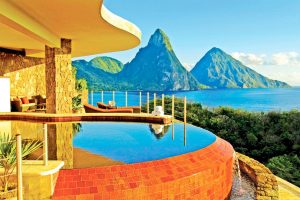 St. Lucia's Jade Mountain Resort has spectacular infinity plunge pools. The property located far above the sea provides jaw-dropping views of the surrounding mountains. Meanwhile, in Mexico, Zoetry Paraiso de la Bonita Riviera Maya has private pools big enough to swim a few short laps and splash about. The ones at the Rosewood Mayakoba in Riviera Maya are small, but lovely, with ocean views and a lounge area with a contemporary look.
Wherever you might find a private plunge pool, you have to be prepared to shell out a few bucks for the privilege. This is not an amenity you'll get at budget or even mid-range properties. But it's something you should experience at least once in your life—a true bucket-list perk well worth pursuing.
(Featured photo courtesy of Rosewood Mayakoba)