Tired of schedules, commuting and the noisy big city? For many of us, the idyllic dream vacay is to be near a lake, river or ocean. The calming effects of water and the possibility of being able to paddle a kayak, cool down with a swim or enjoy the view is the answer to quickly attain a vacation state of mind.
For those looking for solace, serenity and a memorable place to say, consider these five inns for a holiday by the sea.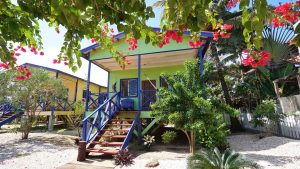 Located in a laid-back fishing village on the south coast of Belize, this colorful inn has four rooms in its main building and four sea view cabanas, all within less than a two-minute walk to an expansive beach. It's easy to go from subway rat to beach bum here and the calm waters off the coast are popular with manatees as well. You can explore the town by walking or borrowing a guesthouse bike to learn about the local Garifuna culture at a drumming class or dine traditionally at a beachside restaurant. Take it easy by relaxing in a hammock or chair swing in the shady guesthouse courtyard, embracing the slow pace of coastal Belize.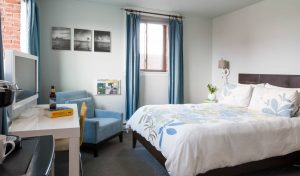 Ale House Inn, Portsmouth, New Hampshire
Tucked into the third floor of a 130-year-old former brewery warehouse, this ten-room red brick inn is steps from the town's waterfront Prescott Park. There is easy access to numerous brewpubs, cafés and restaurants in historic Portsmouth, and you can borrow the hotel's Trek cruiser bikes, get discounts to play golf, go on a sailing tour or take cooking classes. The in-room benefits include modern airy rooms with Keurig coffee machines and an iPad loaded with in-house or around town entertainment suggestions. The welcoming lobby/lounge has a home-away-from-home vibe because of the unobtrusive staff and is a perfect spot for those who want to find time to finish writing that novel.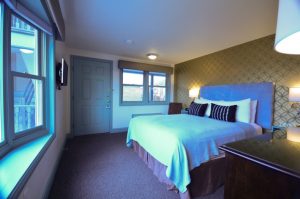 Dockside Inn, Martha's Vineyard, Massachusetts
This contemporary-styled boutique hotel (found within a historic building) is a short walk from the ferry terminal in Oak Bluffs on the Vineyard, offering a laid-back place for an island escape. You can easily make your way to the island's many lures and if you need tips to find the perfect beach or place for lunch, the inn's virtual concierge Loomis is just a text away. With 22 well-appointed rooms, the inn provides beach necessities such as towels, chairs and coolers as well as complimentary snacks in the afternoon, such as fresh-baked cookies and ice cream, which can be enjoyed in the hotel courtyard. In the evenings, the inn's Rolls Royce and driver can be reserved to arrive in style at one of the island's many restaurants.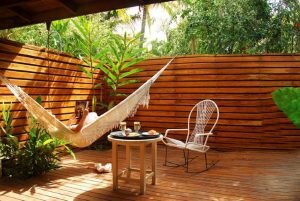 Located on a beach known for its perfect surf breaks and far from the paved roads of Nosara, this eco-chic hotel is ideal for guests who like to get up with the sunrise, read in the shade of palm trees and listen to the chatter of howler monkeys. Ten simply-designed Coco rooms, 13 one-bedroom bungalows and one suite for a family of four all include complimentary amenities like private patios with hammocks and outdoor showers, daily breakfast and yoga class. You can work on your surfing skills, indulge in the hotel spa treatments with products sourced from the hotel gardens, walk the trails around the beach or just relax by the palm-tree sequestered pool.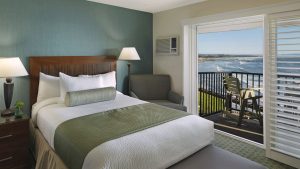 Situated on the cliffs above the Pacific Ocean, this small central California hotel offers daily sunsets and endless ocean breezes. With over 30 newly-decorated rooms in shades of cream, blue and gray facing the ocean, you can walk the paths along the shoreline or indulge in the oceanfront pool and jacuzzi. After enjoying the complimentary daily breakfast, rent a Go-Pro camera to capture your adventures like paddle boarding or kayaking in the sea or exploring the nearby wine country. And when its time to relax on your balcony, feel free to borrow a mystery, thriller or romance from one of the Little Free Libraries found throughout the property.