No B&Bs for me—I'm bunking at the castle. Lübbenau Castle anchors the tourist town of Lübbenau in the district of Brandenburg, about an hour southeast of Berlin. Redecorated in the 19th-century Renaissance style, the castle features 44 rooms and suites over three floors in two wings, plus 20 family-sized suites in the renovated stables.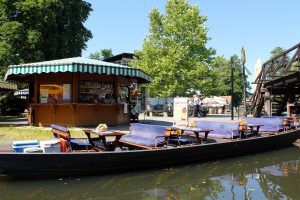 Street cred: It's all about location
The surrounding area, known as the Spreewald, is a UNESCO bioreserve made up of more than 200 natural, ice age-created canals weaving through forest and farmland, with inhabitants getting to and from their homes by hand-paddled, flat-bottomed pine river boats—i.e. there are no roads. The castle is a 10-minute walk to both the boat rental facilities and the old town high street, complete with centuries-old buildings, quaint shops and restaurants, and the fabulous Spreewald Museum. An incredible open-air museum down the road is set up like a farm village and mirrors life in the 1800s. There is also a Pickle Museum—not kidding—which celebrates the region's history of growing almost nothing but cucumbers.
Who hangs here: Is this hotel for you?
This region has been welcoming all kinds of visitors since the 1860s when the rail lines were established and not much has changed. The crowd is mostly middle-aged couples and younger families enjoying quiet time in the country. There are a few campgrounds nearby. Business people book in during the week, giving the castle a slight conference-y edge.
The straight goods: What's in the room?
The castle sports six room sizes, from single to family size, plus two grander suites, with each room featuring a different configuration. Guest-home-style furnishings are traditional and fairly mumsy in a comforting way, with sturdy, pale-wood tables and chairs, gold-based lamps, lots of rusts and greens, and chintz-patterned pillows and curtains. All rooms have a minibar, TV and telephone, and bathrooms come equipped with a towel warmer and makeup mirror.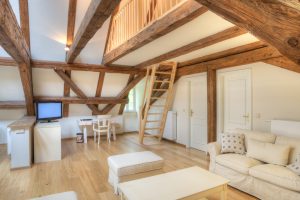 In the stables, 20 family-sized holiday apartments, five of them barrier free, carry on the same traditional, colorful style. Main floor rooms have use of a garden.
Bragging rights: What else has it got?
Use of the sauna and steam bath at the spa in the castle vaults is included in the price of your room.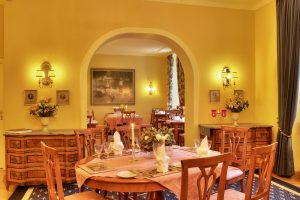 Good eats: Cocktails and cuisine
Your standard buffet breakfast is included—and it is hearty. The Castle Restaurant Linari is cozy and quaint, and done up in pastels, doing the classic German dishes so very well. "Nature writes our menu" is the chef's motto, signifying local produce, herbs, meat, poultry and fish. The manly Rocco's Linari Bar sports striking red walls, tufted leather sofas, comfy chairs, a pool table and a giant cocktail list filled with all the classics and then some. This is a great place to grab a pint and a sandwich.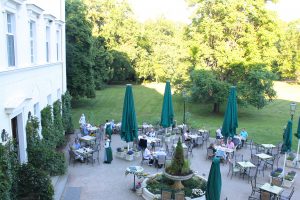 A few of our favorite things: What stood out?
Aside from the sheer quaintness of it all, the castle is one of the venues for the region's popular Brandenburg Summer Concert series, showcasing live music in the front courtyard. With jazz music wafting up to my room one warm summer night, my pre-bedtime wind-down was all warm and fuzzy.
Parting shot: If we could change one thing
While I realize this is a castle, a little air conditioning would be welcome, particularly as European summers get hotter and hotter.
Double rooms from €100 (US$120). Breakfast included.
Doug was a guest of the hotel during his stay. The hotel had no editorial input for this review.
(Featured photo courtesy of Lübbenau Castle)