When I was a kid, my parents regularly took our family on road trips through the lower 48 states and they always promised one thing after hours in the car: a swimming pool. Many thanks to Motel 6, Holiday Inn and the countless other motels that we stayed at during those trips, which are all united in my memory as accommodations that I adored because there was always that pool at the end of the road.
As an adult, I appreciate when a hotel has a swimming pool in order to do laps to kickstart my morning as much as a place to relax after a day of exploring. And when there's a pool and bar combined—well that just makes relaxation better with the option of having a fancy drink, too.
While traveling across America, I've added to my list of memorable hotel pools to include the ones with bars, many of which were formed during the heyday of 20th-century travel. Here are five hotel pool bars that should be added to a travel bucket list for their memorable combinations of city style and thirst-quenching cocktails.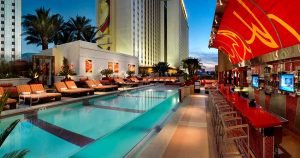 Luxe service is just one of the benefits of Old Strip mainstay, Golden Nugget, and its dual pool options. The red and gold decorated Hideout is the 21+ pool area, with a third-floor infinity pool. Exclusive and attentive service is offered for those who choose to rent one of the amenity-laden cabanas, Ultra Beds or chaise lounges from 10 a.m. to 6 p.m., all served by the Hideout Bar with its array of classic cocktails on offer such as an Old Fashioned or Manhattan. Fun-loving guests may prefer the hotel's award-winning Tank, a three-story water complex with a 200,000-gallon shark aquarium, pool/jacuzzi, waterslide, waterfalls, lazy river, fire pits, cabanas and the H20 Bar for craft beers and al fresco fruit cocktails.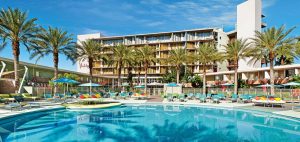 Located on the edge of Scottsdale's arts district, this colorful mid-century hotel has been welcoming visitors to this sunny city since 1956. The hotel offers not one, but two, pool options. The OHasis Pool is for those who like to swim laps, with food and drink ordered by phone and served poolside for when you get thirsty. The vibrant OH Pool features daybeds and private shaded cabanas for rent, turquoise lounge chairs with bright yellow towels, two hot tubs, live music and a poolside bar/restaurant where you can delight in an icy Pal-Oh-Ma (tequila, grapefruit and prickly pear syrup), a Watermelon Freeze (vodka, watermelon and strawberry daiquiri mix) or a Mega Mule (vodka, ginger beer with fresh lime) to be shared among six of your pool pals.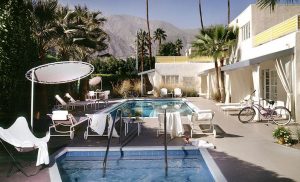 Designed by desert modernist architect Albert Frey, this 16-room boutique hotel opened in 1935 as a retreat noted for its unobtrusive staff. Surrounded by tall hedges, lush green plants and palm trees to block the sounds of busy North Indian Drive, the secluded two-story white hotel with pale yellow accents surrounds an intimate courtyard. Featuring a minimalist pool ringed by white umbrellas and lounge chairs, you will feel like you're in your own discreet hideaway; staff treat all guests like reclusive movie stars. The self-serve hotel pool bar offers daily complimentary options: Continental breakfast with coffee, fresh fruit, juice and pastries as well as happy hour pairings of salty snacks and chilled California vintages of white, red or rose.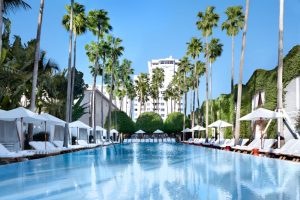 An Art Deco hot spot found on bustling Collins Avenue in South Beach, the path leading to the hotel pool and bar is decidedly distinct with its playful Alice in Wonderland garden path created by designer Phillipe Starck (who also designed the hotel's interior). The immense pool is surrounded by daybeds/cabanas (for a fee), white lounge chairs accented with grey- or blue-stripe pillows, and has a chill vibe thanks to the laid-back remixes of dance tunes and a row of palm trees. Loungers are styled with a soft terry-cloth cover, towels and complimentary icy bottles of water are offered by friendly pool attendants who suggest house-created concoctions like a Blueberry Moscow Mule, Jasmine Margarita or a fresh coconut (rum addition optional) to keep cool.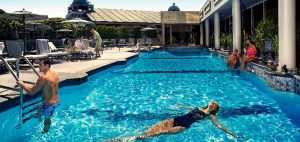 Located within the revitalized Central Business District, this elegant five-star hotel's rooftop pool offers a memorable view of the popular French Quarter and the city's waterfront. The 65-foot salt-water pool is open year-round (it's heated in winter) for exercise or just to enjoy its relaxed vibe daily from 6 a.m. until 10 p.m. Helpful pool attendants happily settle guests into the padded, wrought iron, cream-colored chaise lounges, providing striped beach towels and chilled bottles of water. The recently-opened Waterman Poolside Bar has four flat screens for sports fans and bar staff who are eager to offer options from the tap: six craft beers including three from Louisiana, sparkling and rose wines and a selection of bar snacks, salads and sandwiches for when hunger strikes.
(Featured photo courtesy of Golden Nugget)