Details on the opening of the InterContinental Shanghai Wonderland hotel are short, but fantastical, as in Doctor Strange fantastical.
Set to open sometime this fall/winter season after 10 years of construction by the same folks who designed the Burj Al Arab Jumeirah hotel in Dubai, this unconventional hotel is located in an old abandoned quarry pit and is—wait for it—mostly underground.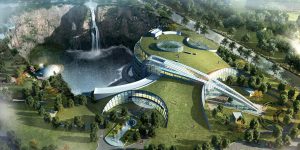 This will be the world's first five-star hotel built into a quarry. The 18-story building—with two floors above ground and 16 beneath, two of those underwater—rises from the ground as if part of the landscape yet has space-age glass pods and protrusions throughout the property. The goal of the architectural firm, Atkins Global, was to create a hotel that truly reflects the natural landscape of the quarry.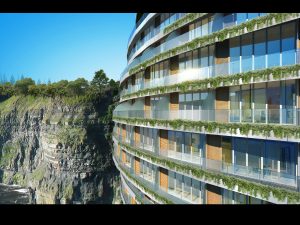 Lush green grass covers the top of the hotel making it seemingly disappear into its environment. Yet, although the rooms are located at a depth of 88 meters (290 feet), each has a balcony that looks out over a spectacular waterfall that courses over the property and views of the surrounding cliffs.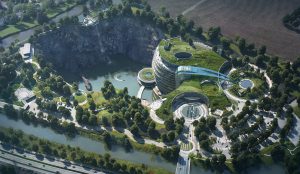 There's no word yet as to what to expect regarding dining and drinks but you can expect a good range of comforts and services. They will include a pool and water complex, as well as a sports center that dangles over the quarry cliff for activities that are a little more challenging, like rock climbing. Regarding the rest, you'll just have to 'dig deep' to imagine what else is in store.
(Renderings courtesy of Atkins Global)