Granada's popularity with visitors may be a result of the historic Alhambra, but this city's culturally-rich neighborhoods are what make it a perfect city for more than just a day trip.
From the market-crowded streets of the Albaicin, the Moorish district found below the Alhambra, to the restaurants and flamenco performance spaces found within caves in Sacromonte—the Gypsy Quarter— Granada is also a city to indulge in serious retail therapy and tasty Andalusian cuisine and wine.
Part of the Macia Hotels Group, the recently renovated Granada Five Senses Rooms & Suites offers modern style and consummate service, making the boutique hotel a welcome choice when visiting this popular medieval city.
Street cred: It's all about location
Steps from the 16th-century Cathedral of the Incarnation on Gran Vía de Colón, this 75-room hotel is an easy 10-minute walk to nearby shopping streets to indulge in perusing popular Spanish fashion brands such as Zara, Desigual and Massimo Dutti. Shops selling leather goods, silver jewelry and other handicrafts surround the cathedral and the University of Granada Botanical Gardens. You can also find boutiques featuring handmade goods and cafes for late afternoon tapas and chilled bottles of Alhambra Beer at the lively Plaza de la Trinidad nearby.
Who hangs here? Is this hotel for you?
If you like to spend as much time as possible in a city, and not in the hotel, you will welcome this quiet yet spartan accommodation.
Business travelers will appreciate easy access to the downtown and financial districts while couples or friends wanting a city break will like the close proximity to historic neighborhoods and numerous tapas bar options.
For those planning a visit to the Alhambra, the hotel is a five-minute walk to the shuttle bus route that goes directly to the site.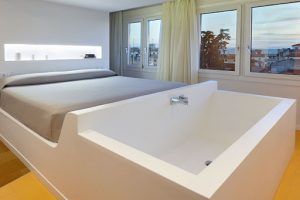 The straight goods: What's in the room?
Each floor of the hotel celebrates one of the five senses and links to a strong accent color—red, blue, yellow or green—to go with the striking white décor in every room. The hallways feature colorful tile carpet and memorable sayings that are displayed on the walls near the elevator.
The design is simple and works well for those who appreciate the adage less is more. A queen platform bed features electrical outlets on either side as well as reading lights, night tables and a bold photo mural/headboard encompassing the entire wall, such as an image of a Granada residential neighborhood, a macro shot of ruby red rioja wine and wine glasses or a view of the Alhambra's exterior.
The opposing wall has an expansive desk with outlets and USB ports to charge travel toys, a flat screen television above, an adjacent lower shelf for luggage and two modern chairs.
The closet includes a larger-than-Euro-standard space for luggage, clothing and travel accessories, while the bathroom is a smart space with sink, toilet, bidet, shower and house brand toiletries.
The bedroom window has blackout drapes to encourage dream-filled sleep and there is minimal street noise. All rooms have air conditioning, complimentary Wi-Fi and junior suites include bathtubs at the foot of the bed, but most rooms don't include a mini-fridge or coffeemaker.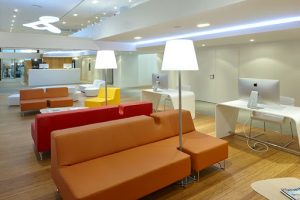 Bragging rights: What else has it got?
The main floor reception/lobby area is a minimalist lover's dream: With floor-to-ceiling windows and white décor, the mid-century inspired furniture adds a few pops of color in those reds, greens and yellows. A sleek business area with two desktop iMacs is found within the lobby while a small gym with a bicycle, treadmill, elliptical and free weights is accessible at any hour.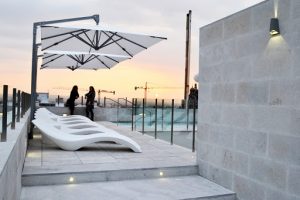 The hotel's rectangular outdoor rooftop features tables with umbrellas, a small area with sun loungers and a wee plunge pool with views of the nearby buildings. Some guests may have an interior courtyard view but it comes with a bonus—an oversized colorful mural. Guests also have access to the hotel spa, which offers face and body treatments, massage, nail services and a hydrotherapy circuit, a welcome respite after walking on cobblestones all day.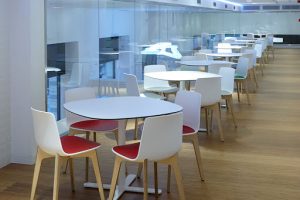 Good eats: Cocktails & cuisine
A generous breakfast buffet is included for all guests. Served every morning from 7-10 a.m. on the mezzanine level overlooking the main floor, options include a good selection of fresh fruit, yogurt, juices, coffee, tea, fresh breads, eggs, deli meats, cheese and sweet pastries.
The hotel bar is open in the afternoon and evening until 10 p.m. and serves the typical range of drinks you'd expect to find as well as the popular Tinto de Verano, a must-have Spanish red wine cocktail. The main floor bar will also serve drinks to the rooftop patio so you can imbibe outside. There's even a separate smoker's space.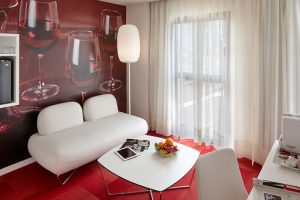 A few of our favorite things: What stood out?
The well-designed rooms and bathrooms make the small space very usable and provide ample storage for multiple suitcases and numerous places to charge electronics. The bold design of white with shots of color and the use of photo murals elevates a plain budget-friendly hotel to a stylish one.
Parting shot: If we could change one thing
The scent of jasmine is used throughout the hotel and small samples are left in each room. Although delicate within the rooms, the hallways were strongly perfumed and you may find it to be overbearing.
A standard room, single or double occupancy, starts from €85 (US$100) per night.
Waheeda stayed at the hotel as a guest of G Adventures. The hotel and tour operator had no editorial input for this review.
(Photos courtesy of Granada Five Senses Rooms & Suites)