Ahh, mornings in a hotel room! After sleeping on lotion-soft sheets under the perfect duvet weight, we like nothing better than to pull on the thoughtfully provided plush robe and switch on the coffee, letting the rich aroma fill our room…and our souls.
Here is where the perfect morning can start to go sideways though, gentle reader. Why oh why is a good (who are we kidding; we would be content with "passable") cup of coffee such an elusive thing at a hotel?
A recent stay at a top-rated hotel had me scratching my head as I guzzled the tar that had leaked out of the coffee maker in my room. This was really a lovely hotel and although we don't always expect much when it comes to hotel coffee, the awful coffee just didn't jibe with the overall vibe of the hotel. After I had had enough coffee to function, I did some investigating. The coffee maker was a small single cup dispensing model, and the prefilled filters were for a 4-cup pot! I asked for a larger coffee maker; they did not have one. I asked for smaller coffee packets; they had them not. I shed thick, over-caffeinated tears.
The next morning, I suffered the indignity of getting dressed before I had coffee in order to stumble down to the lobby for a cup of joe. My morning cup was marginally better, but not good enough to justify wearing pants.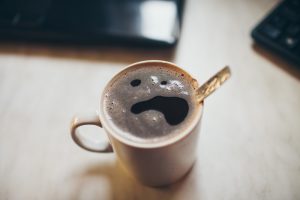 Truly, the terrible hotel coffee experience runs the gamut. Luxury hotels with cheap leaky machines, kitchenettes with awkwardly placed coffee makers that force you to spill half the water when you are filling the reservoir, or a dearth of electric outlets (true story: plugging the coffee maker into the only free working outlet in my Quebec City hotel room forced me to create my own version of bath tub gin—bathroom counter coffee).
The awful coffee isn't limited to the rooms either. Nothing makes us crankier than splashing out for an elegant meal in the hotel's restaurant only to have it soured by a coffee that has obviously been scalding on the burner for far too long.
While we're on the complain train, why must we pay for espresso refills in the hotel restaurant when regular coffee refills are free? Is messing with a person who is taking multiple espresso shots really the wisest move?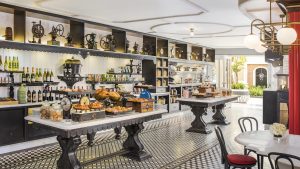 But all is not lost! It is far from the standard in hotels, but some are managing to get it right. We have it on good authority that coffee producing countries tend to have excellent in-room coffee, with reports of delicious hotel joe in Guatemala, Columbia and Costa Rica. The JW Marriott Phu Quoc Emerald Bay Resort and Spa in Vietnam has perfected the art of Vietnamese (iced) coffee, and you can even take home some of the magic if you attend a coffee-making workshop occasionally held at their inhouse café.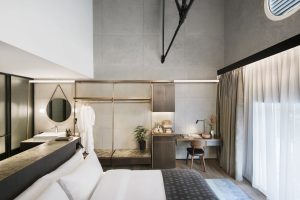 And hotels that team with local roasters get our seal of approval. A special tip of the hat to The Warehouse Hotel in Singapore, with its individual pour over coffee packets and The Durham Hotel in Durham, North Carolina that boasts a personalized morning coffee delivery based on a menu that allows you to select your preferences. Other hotels, please take note!
We may be cranky and jet-lagged, but we're not too proud to beg: Please, please give us some quality liquid fuel!