For those who live in the province of Ontario, the very mention of Muskoka causes swooning and slower heart rates. It's the very epitome of vacations. Dotted with a myriad of lakes, pristine forests, cottages and resorts, it has attracted travelers spanning the gamut from nature-loving urbanites to sporty types who crave oneness with a lake and a canoe.
Though it has attracted a slew of celebrities who bought summer homes in the region, luxury was in short supply when it came to resorts. That's what made The Rosseau Muskoka such a welcome addition upon its opening in 2008. It's a highly rated favorite on the Condé Nast Traveler Gold List. Its rustic brand of luxe ticks all the boxes for comfort, hospitality and amenities. Here you can borrow a paddleboat for a few hours, then soon after be sitting in an elegant steakhouse eating prime cuts of aged beef.
Recently, it has undergone a complete renovation of hotel public spaces to make them even more inviting to guests. It swapped its country chic for contemporary sleekness that still maintains that Muskoka vibe. Walls came down and made the space freer flowing and there are plenty of spots where you can just sit and relax to soak up views of the lake. Once you walk in the door, you feel like you've arrived somewhere special.
For those who like to be in the midst of nature without having to go near a camp or a Coleman stove, The Rosseau is a fun-filled slice of heaven open year-round.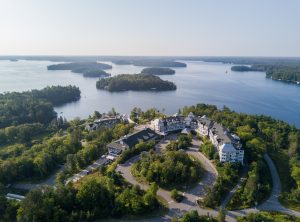 Street cred: It's all about location
In the heart of what's called "cottage country," the resort is a 2.5-hour drive north from Toronto. It sits atop a bluff overlooking the picturesque Lake Rosseau. It's a majestic setting that doesn't have much around it. That's both good and bad. You have the benefit of peace and quiet, far away from the busy highways that serve the region, especially in the summer. But its isolation means you'll have to drive a bit to reach other dining options, get a prescription filled or grab a bottle of pinot grigio at the local liquor store.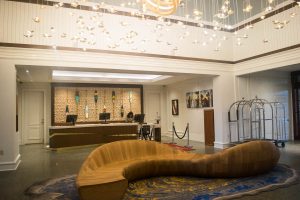 Who hangs here: Is this hotel for you?
Sitting in the beautifully renovated, bright and airy lobby—new for 2018—you can get a good idea of who the guests are pretty quick. It's clear that the hotel attracts a lot of corporate meetings and conferences. It's big enough to house a crowd and has oodles of amenities, plus great spaces for gatherings, from spacious outdoor patios to lakeside restaurants. What's also clear is that this is very much a place for families. Frantic moms chase toddlers holding juice boxes who have escaped from their seats at the dining tables in the casual lobby bar and restaurant. And gum-chewing tweens in bathing suits and flip flops make their way outside to the pool. There's also a smattering of couples who cozy up next to the windows and order bottles of wine and a charcuterie plate.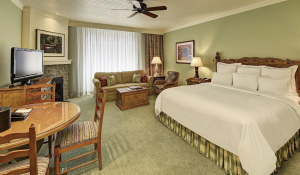 The straight goods: What's in the room?
My suite was telling me something: Stay, chill and hang out for a while. It was designed for comfort, featuring a king-sized bed, a sofa, small dining table with two chairs, gas fireplace and a small balcony with a partial view of the lake. It had a galley kitchen with bar fridge, coffee maker, microwave, two-burner range and was stocked with plates, cutlery, glasses, mugs and some useful kitchen tools. While you couldn't cook a roast beef dinner, you could certainly rustle up some scrambled eggs, heat up leftovers and make yourself a good morning cup of coffee or tea. The marble bathroom was roomy with double sinks, a walk-in shower, bath tub and a separate area with a toilet. It was bright and clean, and even had a magnifying mirror so I could tweeze my eyebrows without squinting.
Bragging rights: What else has it got?
Ambitious types who like an action-packed stay can have the vacay of their dreams. The Rosseau has a long laundry list of seasonal activities available to guests. In summer, there are guided nature walks, astronomy outings, fitness and art classes. In the winter, go for a magical snowshoe trek and warm up next to a bonfire. The summer is a busier time because the lake beckons swimmers, canoeists, kayakers, and cyclists who can roam the trails along its shores. Rentals of most of the equipment is covered by the resort fee. Take a dip any time of the year in the spacious indoor-outdoor swimming pool (with a swim-through channel even in the winter). There's even a zip line!
If too much paddling has made you ache, there's The Spa Rosseau, an 11-room facility that offers a full slate of spa treatments, including hydrotherapy. The self-serve spa is great fun. Try the oxygen bar, HydroSpa, fancy schmancy massage chair and foot massager—a great way to prep yourself for a treatment or enjoy on its own. There's also a 24-hour state-of-the-art fitness center.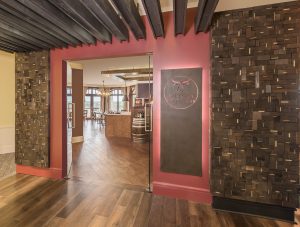 Good eats: Cocktails and cuisine
Dining options are wonderfully casual, even the elegant Teca, featuring simple, rustic Italian cuisine. We dined there on our first night after hearing how incredible the lobster ravioli was. It was very good, but could have used a heavier hand when it came to the lobster component of the dish. I opted for spaghetti and meatballs, which had me wondering how they managed to pack all that flavor into the sauce. My grilled calamari was a happy surprise since the restaurant is thousands of miles from the nearest ocean. It was outstanding—tender and succulent with a kiss of char on it. The wine list was quite good with a nice mix of Canadian and Europe varietals. We did think it was a bit odd that the server didn't pour a tiny bit to sample first before topping up the glass.
The next night we were at the Muskoka Chophouse. Its tightly curated menu was strong on beef and light on options, but this is a steakhouse so no shock there. The steaks went from CAD$52 for a 10-ounce New York strip to CAD$72 for a 26-ounce porterhouse. Sides are separate. We loved the gooey Balderson mac 'n cheese and scraped the bottom of the serving dish with our spoons to get every bit of sauce.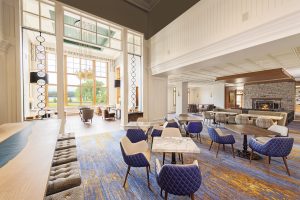 There are also more casual spots like The Deck and Lakes, ideal for breakfast. Big points to the views that many of the restaurants have of the lake, which is really the star of the resort.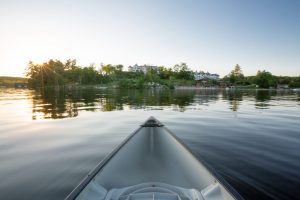 A few of our favorite things: What stood out?
The staff really shined at this large property from front desk staff and servers to the valet jockeys. We were impressed when we asked someone at the resort shop where the spa was. Usually, the directions are conveyed verbally, but this young woman actually walked us down the hall and showed us to the appropriate elevator. The servers at the Muskoka Chophouse handled a potentially disastrous moment during a meal with a great deal of finesse. Our steaks were not cooked to the requested doneness; they were quite off. When we mentioned it, the steaks were whisked away quickly and soon replaced. Our side dishes were also replaced with fresh hot ones when our new steaks (perfectly done) arrived. We were also offered a glass of wine as an apology for the inconvenience. That's exactly how mistakes should be handled and it reflected well on their professionalism and sense of hospitality.
We'd also like to congratulate whoever it was that picked the black-out drapes. They really worked and sleeping in was easy.
Parting Shot: If we could change one thing
We'd love to see how the rooms will look with a bit of refreshing. Some of the furniture is starting to show wear with nicks and dings. We like the sunny palette of colors used (creamy yellows and blues) and hope that would stay. In our dream scenario where we're bosses of the world, we'd also cut the prices at the restaurants a bit. Without a lot of extravagant ordering, we had two dinners for two people that hovered around the CAD$200 mark and breakfast was around CAD$60. Knock down the prices and we'd order more wine!
We found rates in October 2018 for CAD$306 (US$234) including the resort fee.
Michele stayed as a guest of the hotel. The hotel did not have editorial approval.
(Photos courtesy of JW Marriott The Rosseau Muskoka)