Regular travelers have their patterns—the preferred suitcase, fave on-the-road accessories and those certain airport hotels that provide a welcome respite from the rigors of travel.
Beyond the necessary quiet zone of the rooms, there are many airport hotels who focus their efforts on offering tasty cuisine as part of their amenity repertoire for guests arriving at all hours. Thanks to many a delayed flight, we've had several memorable meals at these hotels found in the hub of the airport action. Here are five that are worthy for their service, from room to dining table.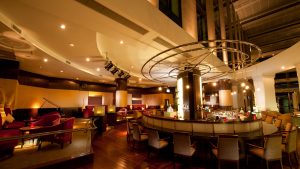 Open 24 hours, the international buffet at The Square specializes in Asian cuisine: crisp sushi, flavorful noodle dishes, spicy curries from India, Sri Lanka and Thailand and plenty of soup, fresh rolls and Chinese stir fries to please any palate. And when a meal is done, retreat to the nearby Atrium Lounge for its lengthy wine and cigar list for post-dining relaxation.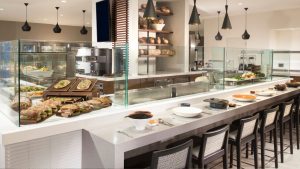 This award-winning restaurant, open daily for lunch and dinner, takes its cue from the city of Angels, with a menu inspired by Koreatown, Santa Monica, Thai Town and Boyle Heights. Tuck into Chili-braised short rib, Shaking shrimp (stir fried with watercress, chili and soy sauce) or the Togarishi-dusted scallops with green papaya, all created under the inventive eye of Chef Charles Fusco.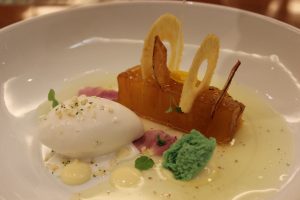 Chef Anthony Roy's mix of classic French foods with a hint of Asian is found steps from Terminal 5 at Heathrow Airport. Open for lunch and dinner, the jewel tones of this restaurant are a welcome change from the standard neutrals of airport hotel environments. Diners can reserve a seat at the chef's table and stop at Tea 5 Café for a post-meal selection from the house-made pastries and teas.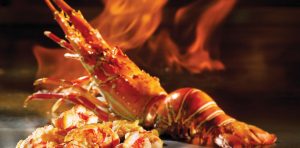 This airport restaurant focuses on classic Japanese cuisine such as teppanyaki and sashimi sourced from Japan. Lunch or dinner, indulge in Japanese beer or sake paired with memorable tastes such as fatty tuna, sea urchin and whole king prawn-based rolls or traditional tonkatsu (pork tenderloin).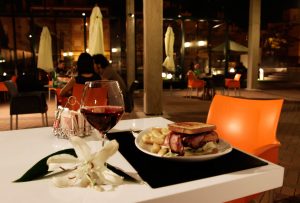 A popular hangout for the business crowd, the bar/restaurant offers a welcome taste of beloved Spanish tapas staples such as jamon Iberico (Spanish ham), nuestas bravas (French fries with sauce), surtido de croquettas (deep-fried fritters) and los huevos fritos (fried eggs with ham and potatoes). And a glass of rioja, of course.