The Breakers Palm Beach is a true American Grande dame hotel with a storied past. It's been around for 150-odd years or so, built my oil magnate Henry Morrison Flagler—business partner of John D. Rockefeller in Standard Oil.
When Flagler first came to Florida in 1878, he decided he liked the state's balmy climate. He retired from the day-to-day operations of the oil company to build the Royal Poinciana—at one time the world's largest hotel. Then he created the town needed to provide support to the luxury property with staff, goods and services (the town became Palm Beach). Finally, he brought in the railway to transport the high-society clientele he needed to fill his extravagant resort.
Due to the hotel's popularity, Flagler ended up building a smaller, second property behind the hotel right by the Atlantic Ocean to house the overflow from the Royal Poinciana when it was at full capacity with wealthy guests. Some liked the quieter lifestyle of the new inn and asked to be put in the hotel "down by the breakers." The name stuck and the property became known as The Breakers. Its guest list is a who's who of early 20th-century society, including: the Rockefellers, the Vanderbilts, the Astors, J.P. Morgan, J.C. Penny and William Randolph Hearst. Skip ahead past several fires and rebuilds, and this brings us to The Breakers today.
Within the Italianate 538-room hotel, you'll find the exclusive Flagler Club, an intimate, boutique luxury-hotel-within-an-already-luxurious-hotel—ideal for those times when five-star service isn't quite enough.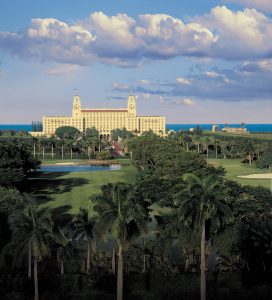 Street cred: It's all about location
The Breakers sits on a vast 140 acres so you'll need transportation to traverse the full property. To go outside of the resort's boundaries, then you'll need to drive or, better yet, book the Tesla house car to take you where you want to go.
Who hangs here: Is this hotel for you?
The Breakers and the Flagler Club are the go-to resorts of the jet-set crowd. Locals and guests range from designer-clad beautiful people to elegant, well-dressed madams and sirs wearing tasteful bling.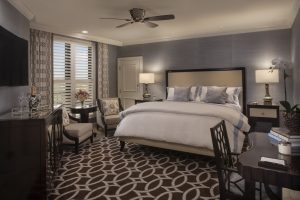 The straight goods: What's in the room?
Designed by Adam D. Tihany, the 25 rooms in the Flagler Club are stylishly decked out in creams, taupes and browns. Rooms range from 300 to 400 square feet room and feature a king bed with a fancy-schmancy PranaSleep mattress that elevates your legs and/or head with a touch of a button; Frette linens; a small but comfy sitting area with two chairs and a table; a 55-inch Smart TV; a marble bathroom with a large walk-in shower—we particularly appreciated the Jo Malone Lime Basil and Mandarin toiletries—and a walk-in closet with a safe.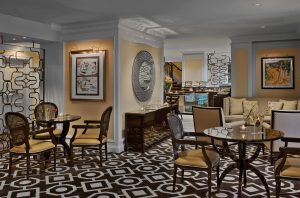 There wasn't a desk, but we figured out pretty quickly that the Flagler Club Lounge, with its outdoor terrace and food and drink offerings, has more than enough appropriate spaces conducive to working. Keep in mind that arriving in your jammies to finish off that report might not be the best attire to wear.
We had enough outlets to keep our tech all charged up and, a nice touch, when we arrived back in our room that first day, all of our cords had been artfully tied up in a branded cable organizer. We also liked the complimentary stocked minifridge.
All in all, the room felt sophisticated and inviting and we were happy to while away time in it.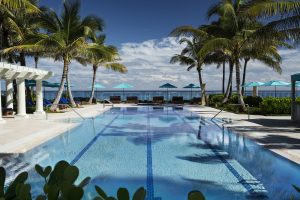 Bragging rights: What else has it got?
The real question is what hasn't it got? At The Breakers resort you'll find pretty much everything your heart desires. There are nine restaurants and bars, ranging from high-end to casual, four swimming pools, a private beach with a beach club for water sports, five whirlpools, a 20,000-square-foot spa, two championship golf courses; a fitness center, 10 lighted tennis courts, a kids' program, and 11 on-site shops that actually have stuff worth buying.
In addition, as a guest of the Flagler Club, you will receive pre-arrival itinerary planning and booking from dedicated Flagler concierges for things like dining reservations, golf and water sports, plus a chauffeured car service from the Palm Beach International Airport (if you fly into Miami instead, Palm Beach is a 1½-hour drive away). A Tesla will whiz you into town or to some of the restaurants farther out on the property, and you have access to the aforementioned Flagler Club Lounge.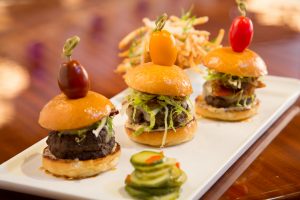 Good eats: Cocktails and cuisine
One of the nice things about staying at The Breakers is the choice of restaurants you have. It's not only one spot that serves breakfast, for instance: you have a choice. So, depending on your mood, you can go all-out posh in the beautiful Circle restaurant with its abundant brunch and 30-foot-high hand-painted ceiling, or go more casual at the light and bright Beach Club restaurant. And, unlike some hotels, here different venues mean different menus.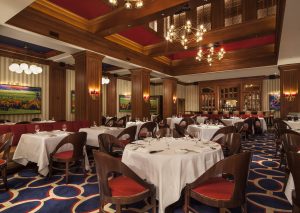 The Flagler Steakhouse is likely the swankiness restaurant at the resort. Filled with local couples celebrating anniversaries and families with adult children out for a meal, this classic chophouse has a country club look and feel. There are many things on offer other than steak, but it would almost be a crime to order anything but one of its prime cuts that arrive at the table tender, tasty and grilled to perfection. A range of sides can be ordered separately. Go for the macaroni and cheese gratin and the caramelized Brussels sprouts. The cocktail offerings lean heavily on the classics.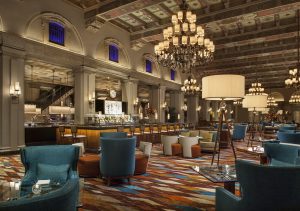 Located off the lobby of The Breakers, HMF is the hotel's main lounge where you can get a variety of tapas-style food and scrumptious drinks. You'll find a mix of the local glamorous glitterati and relaxed, dressed-down guests who all find a table to settle in for the night to have a bite to eat and commence sipping creative cocktails.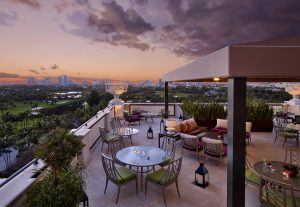 As an added bonus, as a Flagler Club guest, you have access to the high-end offerings in the Club Lounge and Terrace. A full breakfast, lunch, pre-dinner appies and post-cocktail munchies and sweets are available, along with wine, champagne and craft beer. You'll even find a barkeep on-hand during social hour to mix your favorite bevvie for you.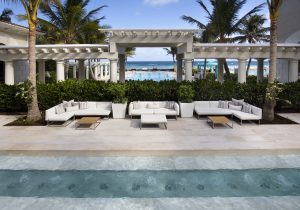 A few of our favorite things: What stood out?
The heirs of Henry Morrison Flagler still own The Breakers and invest a not-insignificant $30-million every year into the resort. The Spa at The Breakers was redone in 2015 and is a delightful haven of rest and relaxation. Its outdoor courtyard and lounging pool—meant to be soothing to the eyes, not as a plunge pool—is a lovely spot to hang out after a treatment if you don't want that blissful feeling to end any time soon. The co-ed salon, with white leather sofas and plenty of snacks and bevvies to sip and savor, is perfect if it's too steamy outside to chill.
I opted to try the spa's original Rose-Quartz Massage—a customized treatment given while you lay on a bed of quartz sand that's more like smooth gravel so it won't scratch your tush when you lay on it. The quartz is said to give you energy but, whether that's true or not, the sand is warm and shifts beneath you as you move, leaving you in coddled comfort. A sheet is placed under you, but I defy you to get out of the bed without collecting some of the sand on your body. As I moved through the co-ed lounge after my treatment with little pebbles falling off me, I was happy with the world after this soothing massage.
Parting shot: If we could change one thing
There's nothing like waking up in a hotel room, turning on the news and sipping on a cuppa joe in bed. If that black gold is an espresso, even better. The Flagler Club didn't have a coffee machine in the room, but it was deliciously decadent to be able to order a double espresso from the Flagler Club Lounge and have it delivered, gratis, within minutes before snuggling back into bed, TV remote in hand.
We found rooms in October for US$1,014 per night.
Janice stayed as a guest of the hotel. The hotel did not have editorial approval.
(Photos courtesy of The Breakers Palm Beach)