A themed hotel can be a tricky one to love, leaning towards the kitsch as it does. But when it's in the right hands it can be an exquisite experience. That's the case with the Aria Budapest.
The hotel is part of the Library Hotel Collection, the group behind the Library Hotel and the Hotel Giraffe in New York and the new Hotel X Toronto. The company is known for offering an expert level of service. And though they do drum home (sorry) the music theme that drives this hotel experience, and could have softened the tone (sorry, again), for example, with less ornamental music details (treble clefs and violins hanging from light fixtures, we're looking at you), the elegant and professional Aria staff create the chicest of stays for guests.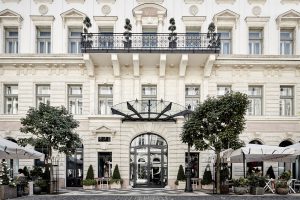 Street cred: It's all about location
The Aria's location couldn't be better. Almost anywhere you want to go is within walking distance. Over several days we headed out on foot, over the entranceway's black-and-white keyboard floor motif, to Andrássy Avenue—the Champs-Élysées of Budapest—with its designer shops; the hip Seventh District and its ruin bars; to the Danube and nearby museums. The hotel, naturally, is also a minute's walk to the famed Budapest Opera House.
Who hangs here: Is this hotel for you?
Aria Budapest is in a former 19th-century city apartment building on the happening Pest side of the city. The 49-room boutique property is now divided into four wings, each with its own music genre; there's classical, jazz, opera and rock. Each room in a category is devoted to a seminal artist of the style, with fun touches such as cartoon portraits on the walls.  The hotel also has a music director on hand to curate your stay or simply guide you through the hotel's extensive music library.
Upon arrival you are asked to answer a cute questionnaire to determine what genre of music room you might like most. The jetlagged arrivée might not feel up to this lighthearted game (a hot shower beckons more), but any crankiness dissipates once your key card is in hand and you're led through the posh atrium lobby to your wing's elevator.
 (Just so you know, you can also do the questionnaire through the hotel's website pre-arrival.)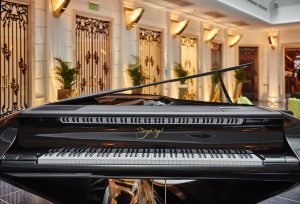 Stylish Euro-guests partake in a late lunch in the airy space, while the odd tourist comes in to take a peek at the piano that's a feature of the hotel, designed by Hungarian pianist Gergely Boganyi. The instrument is one of only three in the world. Sleek and curvy, it looks something like a futuristic race car.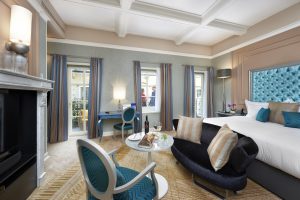 The straight goods: What's in the room?
We were assigned a Bach room in the Classical Music section. The custom-made velvet furniture and trimmings were done up in cool beige-and-black tones which we appreciated. (One of our travel companions got a Liszt room which had turquoise and ruffles—a little too Zsa Zsa Gabor for our taste, but she loved it.) The bed was big enough for both Buda and Pest, and was dressed in high-count Egyptian cotton sheets.
The room had a beautiful fireplace and a grand marble bathroom, and lots of hi-tech touches such as iPads for room service, to control light switches or to open and close for the thick, tasteful curtains. The TV had, in addition to the million or so Euro channels, a curated music channel specific to your theme. In this hotel, neighbors not only share a wall but presumably the same taste, so there's not likely to be any complaints if you blast Bach or the Stones on your set. Actually, rooms are all triple soundproofed so no-one will be complaining about anything.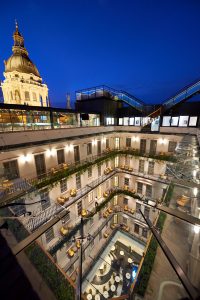 Interior courtyard balconies were a feature of late 19th-century apartments in Budapest and these, too, have been restored. You can enjoy a quiet morning coffee on your courtyard terrace courtesy of in-room Nespresso machines.
Bragging rights: What else has it got?
We spent our first day in Budapest not budging from the hotel and it was not a day wasted. A post-flight swim in the hotel spa's gorgeous thermal pool (same healing water but far less crowds as the famous Széchenyi Medicinal Baths in town) and a detox in the steamy Hammam is the perfect way to enter into a Budapest state of mind.
A facial at the spa topped off the relaxing—if totally indulgent—spa experience. The skilled technician who performed the treatment incorporated face massage, as important a procedure in Hungarian beauty treatment as masques and serums. She also reminds us that we are on holiday and now is not the time to skimp on ice cream or the delicious pastries at the city's coffee houses and konditorei.
First, though, wine and cheese, a daily early evening offering to guests in the Atrium lobby. This is a chance to get to know some impressive Hungarian wines and lovely European cheeses.
Could our day get any more "grand Mittel Europa"? Yes, because a pianist took his place at the sleek instrument and started to play.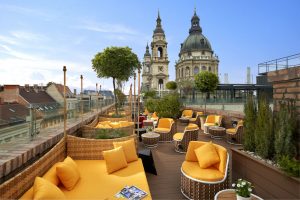 Good eats: Cocktails and cuisine
The well-known Gerbaud group—its ornate eponymous café in the city center is an iconic Budapest eatery—recently signed on to provide food services for the hotel. During our stay, we had a delightful meal at the hotel's signature restaurant, the Stradivari: velvety duck liver, a Hungarian specialty, succulent lamb and a dessert of fancy pastries from Gerbaud's iconic repertoire.
The Aria's rooftop lounge, the High Note Sky Bar, definitely has the best views in Pest. The panoramic view includes the towers of the neighboring St. Stephen's Basilica, so close we could almost touch it. Many of the tables were reserved for locals celebrating birthdays with friends. The rooftop definitely feels like the chi-chi place to be in town and we weren't above taking pictures of the bar's inventive and punchy cocktails. 
A few of our favorite things: What stood out?
We didn't think it could get any better that first day, which ended at the rooftop bar with a jaw-dropping late summer sunset over the hills of Buda, but when we got back to our room there was a chic little ballotin of Gerbaud chocolates on our turned-down bed.
Parting shot: If we could change one thing
The bathroom products were Molton Brown, a fine enough brand. But we would have liked something a little more local, given we kept hearing about the amazing, insider-y Hungarian brands such as Helia D. Or maybe just add a little Estée Lauder something, since the founder of the cosmetic giant's roots are in Budapest.
Rooms from €255 (US$296) a night, breakfast and afternoon wine and cheese included.
(Photos courtesy of Aria Hotel Budapest)