Editor's update: This art installation has been ordered to be taken down by August 3 by the local government due to the fact that the statues have been deemed to be "idols."
As if there weren't enough reasons to vacation in the Maldives—the crystal-clear sea, pristine beaches and incomparable snorkeling—now there's also a one-of-a-kind underwater museum to experience.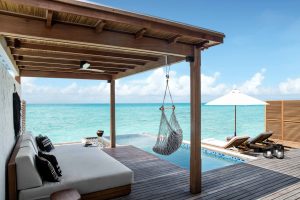 Not only is the Fairmont Maldives Sirru Fen Fushi the first Fairmont resort in the country for AccorHotels—just opened spring 2018 with 120 all-suite villas with private plunge pools—it's also home to the Coralarium, the planet's first partially-submerged art gallery.
Created by famed underwater naturalist and British artist Jason deCaires Taylor, the Coralarium features three series of artworks:
Rooftop sculptures placed at the top of an immense cube structure;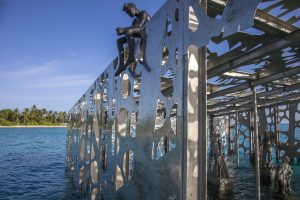 The underwater art and sculptures placed on heavy bases at different heights intended to mimic tidal movements;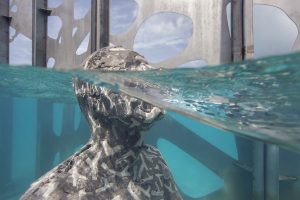 And the partially submerged cube, which acts as a bridge between the underwater and above-water worlds. The stainless-steel cube rises six meters from the seafloor.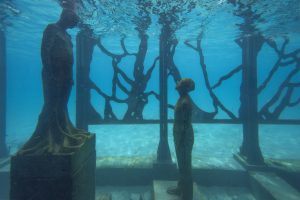 The water-friendly works of art—which are, in fact, part of a coral regeneration project—are intended as an homage to the ocean and its incredible sea life and coral ecosystems. The unique installation features a variety of pieces, including awe-inspiring, otherworldly creatures that are half-human and half-sea being.
"Over the years I have realized that the really humbling thing about what we do is that once we submerge the sculptures they're not ours anymore. As soon as we sink them, they belong to the sea and nature takes over," said Taylor.
If you're staying at the Fairmont Maldives Sirru Fen Fushi you will be able to enjoy a view of the Coralarium from the resort. The installation was carefully designed to lead from the property's 200-meter infinity pool into the lagoon as an extension of the resort. Taylor created an underwater pathway a short swim from the shore, so you can swim or snorkel amid the whimsical water world.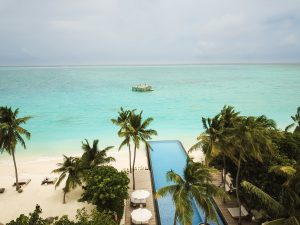 The materials, textures and configuration were specially created to encourage the growth of biomass. To meld seamlessly into the natural ocean ecosystem, the installation was crafted with non-toxic, pH-neutral, marine-grade materials free from pollutants, which will eventually become an integral part of the local ecosystem. According to AccorHotels, the underwater museum "acts as a sheltered space that offers a permanent sanctuary for ocean life such as fish, crustaceans, octopuses and marine invertebrates, offering visitors a new experience to engage with art and nature."
Guided tours of small groups will be led by the resort's resident marine biologists several times a day. In the evening, you can continue to enjoy the Coralarium thanks to an integrated light system that will illuminate the museum and attract marine life. Isn't art grand?
(Photos courtesy of Fairmont Maldives Sirru Fen Fushi)