At the Puerta del Sol, a historic plaza in the center of Madrid, there's a small stone slab bearing the words "origen de las carreterras radials." As the zero-kilometer marker for Spain, all roads start from this spot across the country. Travelers are told that coming here means they will return to Madrid; staying at the storied ME Madrid Reina Victoria will encourage visitors to return, too.
Opened in 1923 as Gran Hotel Reina Victoria, the hotel was named for King Alfonso XIII's Queen, and was an example of the modernist architecture of the 1920s. Visited by politicians, diplomats and artists through the decades, the hotel's name may have changed, but the well-known have always chosen here to stay, like bullfighter Manolete, who always stayed in room 406, writer Ernest Hemingway, actress Ava Gardner and Spanish singers Pablo Milanes and Joaquin Sabina.
After housing Banco Simeon and Arias department store in the 1990s the hotel reopened as the ME Madrid Reina Victoria in 2007 and was the very first ME hotel. With 212 rooms, the hotel features a restored historic façade, redesigned contemporary interiors and avant-garde Spanish art in its public spaces, including four 60-meter-high murals in the inner courtyard by artist Antonyo Marest to mark the hotel's 10th anniversary.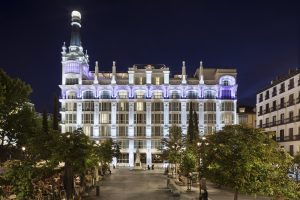 Street cred: It's all about location
Located on Plaza de Santa Ana, ME Madrid is found within Barrio de las Letras, the literary quarter of the city with its many cafes, restaurants and bars. A 10-minute walk brings you to historic sites such as the Teatro Espanol (Spain's national theater), the Prado Museum, Mercado San Miguel for tapas and to the shopping area surrounding Puerta de Sol.
Who hangs here: 

Is this hotel for you?
Business travelers will appreciate its central location, complimentary high-speed Wi-Fi and in-room Nespresso coffee, while cool couples or friends who are in the capital for the weekend will enjoy the numerous bars and cafes that are less than five minutes from the hotel, as well as easy access to the city's Metro system.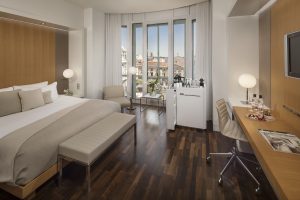 The straight goods: 

What's in the room?
The spacious Mode rooms are a welcome option for North Americans who are used to larger hotel rooms. The streamlined space features dark wood floors, blonde wood paneling, a room-wide desk area below an oversized flat-screen TV with satellite channels, multiple types of electrical outlets and a bed dressed in 300-thread-count snow white linens. The bench located at the foot of the bed is a perfect accessory for when getting dressed. Lower floors have sliding doors which open to the plaza and, on higher floors, rooms include a balcony.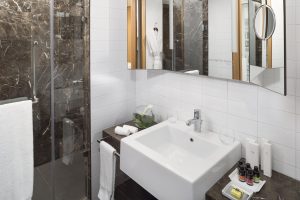 The white-tiled bathroom includes a hydro-massage shower, organic Apivita bath amenities and well-designed bathroom lighting, making it easy to shave or be able to properly do one's maquillage for a night on the town. Housekeeping staff add a daily flourish on the wall-sized bathroom mirror, such as a memorable quote from Bob Dylan or David Bowie.
The minibar features numerous salty, sweet and liquid temptations (the Nespresso coffee is complimentary) as well as enticements such as cashmere socks, portable mobile phone battery and Agent Provacateur underwear. Another bonus: a safe that is large enough for a laptop and other precious items.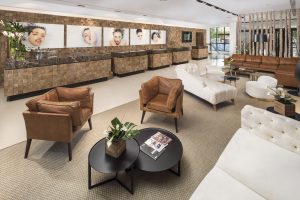 The hotel lobby is a welcoming place with its caramel leather couches, macramé sculpture, contemporary art and welcoming hotel staff, who will happily call a taxi, offer tips on exploring and greet new guests with a glass of cava. Guests have complimentary access to the gym, Turkish bath, sauna and jacuzzi as well as being eligible for discounts at the spa located next door at the Club Metropolitan Palacio.
Bragging rights: 

What else has it got?
Along with high style, ME Madrid Reina Victoria has five rooms which have been adapted for universal accessibility. Canine friends are also able to join their humans on a weekend away from home for the cost of 50 euros. The hotel offers a dining menu for doggie guests, part of the 24-hour room service for humans.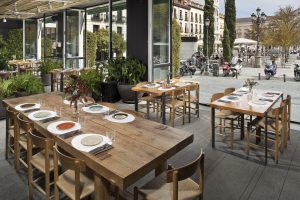 Good eats: 

Cocktails and cuisine
Restaurant Ana la Santa is a laid-back spot for breakfast, lunch or dinner, with a plant-filled terrace overlooking the plaza. The breakfast buffet offers a wide range of tempting items, including Serrano ham, smoked salmon and made-to-order eggs and pancakes. Lunch and dinner options are traditional Spanish dishes including tasty traditional tapas, sandwiches, salads and paella. The bar stays open until 2 a.m. for post-dining cocktails and, on weekends, reservations are required as the dining spot is popular with local residents.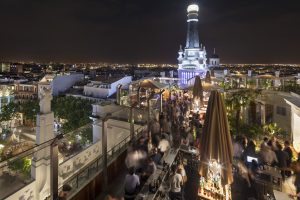 A few of our favorite things: 

What stood out?
Curated playlists on iPods are available for you to borrow during your stay and the hotel website includes many tips on exploring Madrid's neighborhoods.
For a slice of Madrid nightlife, head to the popular Radio rooftop bar for cocktails—relaunched in April 2017 and refurbished with modern art, exotic plants and new Mediterranean menus for its bar and restaurant. Open until 3 a.m. with a DJ-driven soundtrack, hotel guests have an interior route (outside guests have a separate entrance) to reach the surprisingly unpretentious bar, which has unmatched views of the city at sunset.
Parting shot: 

If we could change one thing
Rooms overlooking the busy Plaza de Santa Ana can "enjoy" the entertainment from the nearby restaurant terraces and the street performers, which means ear plugs are absolutely necessary to get you to dreamland at night.
A standard room, single or double occupancy, starts from €125 (US$145) per night.
Waheeda was a guest of the hotel during her stay. The hotel had no editorial input for this review.
(Photos courtesy of Melia Hotels & Resorts)