Hotel lovers know that when it comes to discovering a destination's nightlife, hotel bars can be the most happening hot spots in town. Gone are the days of outdated décor and antiquated cocktail menus, top properties pull out all the stops to make their bars the go-to place for a good time and trendy tipples for tourists and locals alike. Here's just a sip of some of our Canadian faves.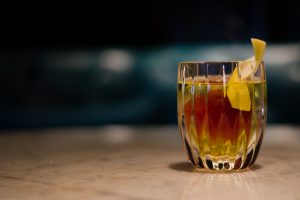 Capturing the essence of a 1920s speakeasy, complete with live jazz and dark, sleek décor, this hotel bar is one of Vancouver's most popular places to see and be seen. Prohibition has a carefully curated wine, beer and liquor menu, but to truly travel back in time go for the absinthe experience, which comes to you slowly poured over a cube of sugar. The delightfully quaffable Inception Negroni will normally set you back $30 but now you can test your mixology skills by making it at home.
Inception Negroni
½ oz Bulldog gin
½ oz Martini Bianco vermouth
½ oz Luxardo Bitter Bianco
Pour over a frozen Negroni ice cube made of:
½ oz Bulldog gin
½ oz Cinzano Rosso vermouth
½ oz Campari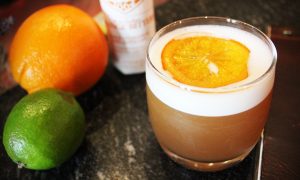 CURE Lounge and Patio, Nita Lake Lodge, Whistler
While you may come for Nita Lake Lodge's picturesque lakeside setting, you'll stay for the friendly company and tasty drinks. The rustic, wood-forward décor mixes well with the relaxed vibe and spectacular mountain scenery. The beverage menu changes seasonally and presently features a selection of whimsically-named libations with a riddle theme (for example, sip on a Preserved cocktail as you mull over: 'What goes up but never comes down…'). The drinks draw inspiration from local British Columbia spirits and produce, including infusions with herbs from the Lodge's rooftop garden. The Grill Master is the perfect complement to a summer barbecue (or anytime, really).
Grill Master (created by head bartender Rhiannon Csordas)
1 ½ oz Bulleit bourbon
4 dashes liquid hickory smoke
1 oz orange vanilla syrup
1 oz grapefruit juice
½ oz lime juice
3 dashes orange bitters
Dehydrated orange peel (for garnish)
Combine all ingredients into a shaker and shake. Strain into a highball glass over a large ice cube. Garnish with a dehydrated orange peel.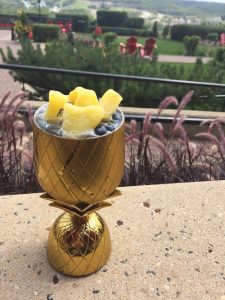 Think "old-school estate library meets cozy lounge" and you'll get a sense of what awaits you at Edmonton's popular Confederation Lounge. That classic look is authentic—the lounge has been welcoming guests since 1915. If you're feeling flush, go for the famous Dalmore Cocktail; exclusively available at Fairmont Hotel Macdonald, this wee dram of a drink is served in a handmade crystal glass and will set you back CA$200 (US$153). Or try this more affordable, but equally satisfying, thirst quencher:
Smoked Pineapple Blueberry Margarita
1 ½ oz Silver Patron tequila
1 oz lime juice
1 oz honey
Muddled blueberries and smoked pineapple
Strain and serve in a pineapple-shaped glass. Garnish with smoked pineapple and blueberries.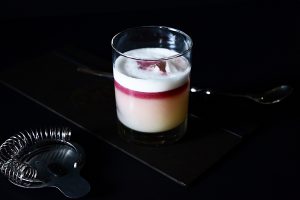 It's no surprise that one of Saskatchewan's most luxurious and elegant hotels can also lay claim to one of the country's most bespoke bars. Evenings are kicked-off by the 5 o'clock Bar Ritual when the bartender makes a toast to the long past (thank God) days of prohibition. Then sink into a lush high-back velvet chair as you divide your time between sampling the hotel's unique take on classic cocktails as well as inventive new creations. Drink in the property's essence by sipping on its eponymous Hotel Sask cocktail.
Hotel Sask
¾ oz Canadian Club Chairmen's Club 100% rye
¾ oz Crown Royal Northern Harvest 95% rye
½ oz fresh lemon juice
½ oz honey syrup
3 dashes of Angostura bitters
3 dashes house orange bitters
Garnish with expressed lemon.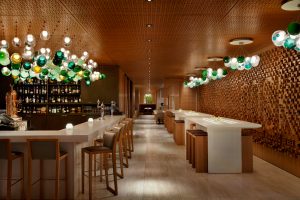 As famous for its celebrity clientele as for its posh interiors, the hotel can also boast one of the best bars in the country. The chic lounge is the "it" spot for after-work aperitifs, a pre-theater drink or hanging with the cool crowd until final call. The stylish yet playful setting comes with a business-casual dress code. The bar is especially well-known for its high-end wines and focus on seasonal cocktails. The silky-smooth beverage below perfectly mirrors the bar's classic, sophisticated ethos.
The 1870 (created by head bartender Chris Rail)
2 oz Torres brandy, 10 year
¾ oz freshly squeezed lemon juice
1 oz port-infused cigar syrup
Combine all ingredients in a shaker. Dry shake (no ice) vigorously. Add ice. Gently roll cocktail in shaker. Strain. Garnish with dehydrated lemon circle.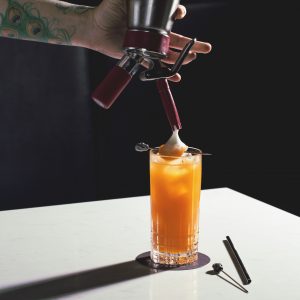 Words like hip, unique and electrifying don't quite capture the always-buzzing Nacarat, which embodies the essence of the glam-rock era of Ziggy Stardust in a contemporary setting. It truly is a one-of-a-kind place to wet your whistle and listen to some of the industry's best DJs weave some musical magic as mixologists do likewise with liquor. This summer, every Thursday to Saturday on the hotel's third floor terrace, the bar mixes up some special summer cocktails with food from the grill. If you're not in Montreal, though, you can at least enjoy Nacarat's signature cocktail, Mister White.
Mister White
1 ½ oz lemon Ketel One
¼ oz Grand Marnier
¼ oz gum syrup
3 ½ oz mix of Patrick Fond apricot juice and carrot seed oil (one dash wild carrot seed oil mixed in 1 liter of apricot juice)
2 dashes chocolate bitters
In a tall glass, pour all the ingredients and stir together. For an additional touch of magic, add vanilla mousse on top (caramelized with a kitchen torch).
(Featured photo courtesy of Rosewood Hotel Georgia)