As one of the most famous and infamous neighborhoods in the world, New Orleans' French Quarter is known for its friendly charm, historic hot spots and endless options for a tasty libation. Many notable cocktails have been created here, like the Sazerac, Ramos Gin Fizz and Hurricane and it's a city that has go-cups at every bar, enabling one and all to walk down the street with a cocktail in hand.
But more than that, New Orleans can claim something no other city can: Cocktail cups that are also souvenirs, many that can be worn while strolling the Quarter as easily as the coveted beads thrown at Mardi Gras.
Wandering Bourbon Street, it's easy to spot visitors proudly wearing a Hand Grenade, the vessel for a cocktail from Tropical Isle, or a Hurricane served in a fish bowl courtesy of Fais Deaux Deaux. At the neighboring Bourbon Orleans Hotel, a decidedly more upscale option for cocktail lovers is on the menu.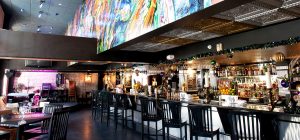 Cheryl Charming, noted mixologist and author of 16 books on cocktails and bartending, is bar director at the hotel's Bourbon O Bar. Establishing the first fresh cocktail bar on Bourbon Street in 2013, Charming wanted Bourbon O to offer a NOLA keepsake that was memorable.
Launched on New Year's Eve 2015, Charming's Midas Cup is a gold champagne bottle containing a heady concoction of strawberry and pineapple juices shaken with Reyka vodka and ice and topped with bubbly. And like its grenade and fishbowl cousins, the Midas Cup can be worn around town thanks to its black lanyard and 18-inch straw.
Customers will be able to sip for a quite a while—the Midas Cup contains 40 ounces. Gimmicky? Maybe to those who don't know New Orleans: Bourbon O sells 1,000 Midas Cups a month at US$25.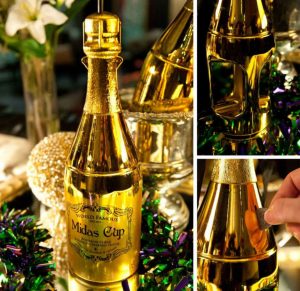 When the drink is finally done, the souvenir bottle becomes a piggy bank, to save those coins for the next trip to the city where laissez les bon temps rouler. (That's Cajun French for let the good times roll. We'll drink to that.)
(Photos courtesy of Bourbon Orleans Hotel)