In olden days, if you wanted to imbibe more than tea during a proper English afternoon tea, the most you could get away with was a glass of bubbly. Refined and delicate on the palate you really couldn't go wrong matching it with sandwiches and cake alike.
But what about more serious sippers who appreciate a more powerful potion to go with their smoked salmon sandwich minus the crust?
Hotels like the Intercontinental Hotel Dublin have a fine solution to this improbable problem. Welcome to the G+Tea.
Along with the hotel's savory sandwiches, including the yummy vegetable ratatouille, olive, and goat cheese on focaccia and the more exotic rendition of smoked salmon tartar with daikon and pickled carrot, you can order a G+T to go with that cuppa black tea.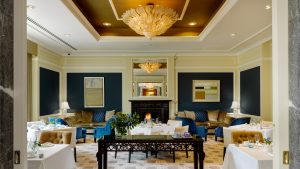 German-made Monkey 47 gin is the spirit of choice when having the G+Tea in either the sumptuous, golden-hued lobby lounge or the more intimate reading room with deep blue walls and matching chairs.
With your gin pre-selected for you, personal taste comes into play with the choice of Thomas Henry tonic water, another German find in either Indian, elderflower or cherry blossom flavors.
A bevy of botanicals round out your selection, following the G+T style that started out in Spain (there called Gin Tonics) and is now all the rage in the UK and Dublin. Served in giant goblets, cocktails are created with citrus, herbs, bitters and sometimes vegetal variations. At InterContinental Dublin flavor profiles like pink grapefruit and thyme, orange wedge and mint, red chili and lime or a lemon wedge and rosemary offer enough choice to satisfy salacious thirsts.
Sammies and G+T(s) done, it's time to turn your attention to a sweet treat, but there's no need to end that steady flow of gin. A gin and tonic panna cotta is one of the most delicious desserts to dive into–light, creamy, refreshing and ultimately satisfying. Cheers to that!
The G+Tea is €49.50 (US$58) and includes one cocktail.
(Photos courtesy of InterContinental Hotels & Resorts)