King George VI opened The May Fair in 1927 and, at 90, this old girl doesn't really look a day over 30. Always a bit more rock and roll than some of its neighbors in London's Luxury Quarter, this opulent 404-room haven has both pedigree and panache—with a dash of whimsy thrown in for good measure.
Street cred: It's all about location
London's Luxury Quarter always dazzles. The hotel is steps away from Green Park, a stone's throw from leafy Berkeley Square and a short walk from Hyde Park Corner. With Knightsbridge and Kensington just down the road, this neighborhood is as posh as you can get. Everyone who walks the streets is beautifully dressed, unsurprisingly, as Saville Row is about six streets over. The luxury shops of Old and New Bond Streets are sure to tempt. Jermyn Street, where royal family members gets their shirts and shoes made, is a five-minute walk away. The Buckingham Palace gate is a 10-minute walk.
Who hangs here: Is this hotel for you?
Spot the celebrity! Leonardo DiCaprio, Brad Pitt and a variety of soccer players have all been seen here. The hotel also has a big Middle-Eastern clientele. You may even see a bowler hat or two, worn with absolutely no irony.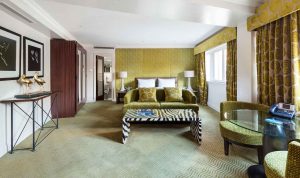 The straight goods: What's in the room?
Though ornate, rooms have lots of space for your own things and big bathrooms. Bold colors and patterns reign here throughout all the various room tiers, including bright red furniture, zebra-striped tables and padded crocodile-print headboards and benches. Suites are even more opulent, gussied up with even brighter colours—fuchsia, yellow, turquoise—plus lots of shiny objets and quirky surprises like a bathtub lit from within.
Bragging rights: What else has it got?
The Palm Beach Casino has taken over the hotel's former Grand Art Deco Ballroom and features Roulette, Blackjack and Poker 24-7. Very James Bond.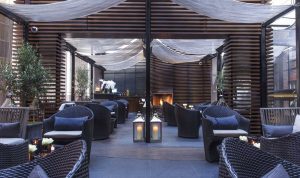 Good eats: Cocktails and cuisine
All warm and woody, the May Fair Kitchen serves an extensive menu of Spanish and Italian small plates, including pizzas, pastas and risottos, plus grilled meats and fresh seafood. Adding even more to the variety, it also serves a few Mexican and Peruvian dishes from two other nearby restaurants operating under the same Kitchen banner. The A-listy May Fair Bar is legendary, with one of the best cocktail menus in the neighborhood. Think homemade infusions and out-there herbs. When you offer bespoke, floral-infused cocktails on the garden terrace, you're pretty much at the top of your game.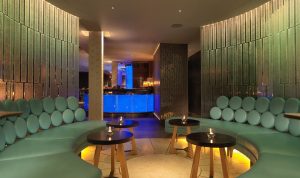 A few of our favorite things: What stood out?
Besides the scenester bar, the 200-seat luxury screening room is one of the best private cinemas in town. Comfort reigns supreme: The Italian leather seats have little fold-out tables for your snacks.
Parting shot: If we could change one thing
The glam occasionally reaches over-the-top proportions. But hey, it's a fine line to walk. One person's glam is another's ho-hum.
Standard rooms from £245 (US$320). Breakfast is not included.
Doug was a guest of the hotel during his stay. The hotel had no editorial input for this review.