Does afternoon tea conjure up frou-frou visions of lace doilies, chintz-covered chairs and delicate china? If you walk into the QT Museum Wellington Hotel in New Zealand, for instance, you see that none of that applies: black walls showcase an in-house art collection of contemporary portraits, surrealist paintings and quirky mixed media sculptures.
Hippopotamus, the hotel's dining room, continues the bold style with floral-print carpet and ornate chairs and love seats covered in hot pink crushed velvet. And this unusual space is home to the city's most popular afternoon tea.
Tea, after water, is the most consumed liquid in the world. According to the Tea Association of the USA, tea is found in 80% of households in America and, in the United Kingdom, tea is more popular than coffee, with 165 million cups of tea consumed every day. In England, some hotels in tourist zones have stopped serving lunch and focus on afternoon tea instead, seeing the increasing desire to enjoy this tradition in its hometown.
"There are few hours in life more agreeable than the hour dedicated to the ceremony known as afternoon tea." – Henry James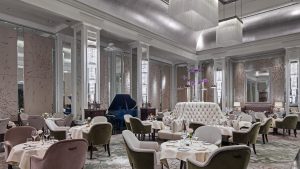 Anna Russell, the seventh Duchess of Bedford, made her desire for a late day pick-me-up meal the newest sensation in the mid 1800s. When The Langham London in Marylebone was officially opened by the Prince of Wales in June 1865, the hotel's Palm Court began to offer afternoon tea for upper class ladies. No surprise the pomp and circumstance found within English tradition would turn a cup of tea into a memorable event, and an essential amenity of hotels around the world.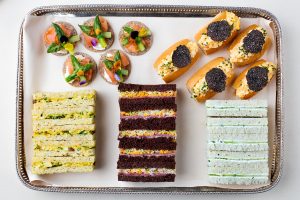 Over 150 years later, this five-star hotel continues to host afternoon tea every day from 12:15-5:30 p.m., the soothing sage, lavender and silver décor, live piano music and fresh flowers in Palm Court a welcome retreat from the high streets to indulge in a palate-pleasing meal of small sandwiches, savory bites, sweet treats, scones, Devonshire cream, jam and, of course, tea. This year, Executive Pastry Chef Andrew Gravett updated The Langham London's afternoon tea with SeasonaliTea, offering tea devotees a menu that reflects seasonal ingredients and is lower in fat and refined sugar.
Need another excuse to celebrate afternoon tea? London hosts an annual Afternoon Tea Week, this year from August 13-19, 2018.
Afternoon tea at The Langham London starts at £55.00 (US$72.00) and reservations are highly recommended.