When you have a drink at the American Bar at The Savoy in London, a Fairmont managed hotel, be prepared for so much more than simply popping in for a nightcap. Yes, the cocktails can be pricy, ranging from £18 to a wildly, outrageously, expensive vintage Sazerac cocktail at £5,000 (made from an 1858 carefully-stored bottle of Sazerac), but the real reason to stay for the evening is that this is cocktail theater.
Earning the name of World's Best Bar at the World's 50 Best Bars awards, as selected by 500 industry insiders, this bar offers creative, complex cocktails that all have a story to tell. And its recently released menu tells a new tale through imaginative pairings and meticulous details right down to the limited-edition, etched-glass coasters, representing the shutter of a camera, upon which drinks are placed.
The first thing you notice is that the new cocktail menu is presented with a great deal of confidence. This is not a one-page sheet handed out with typewritten names and prices. No. This is a hardcover book with a foreword, table of contents and black-and-white photography within its pages.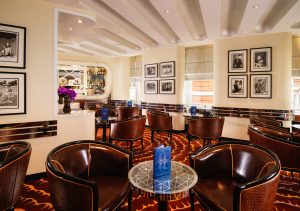 Today's tale is focused on the images that grace the walls of great and grand celebrities taken by photographer Terry O'Neill, Elizabeth Taylor with David Bowie, Marlene Dietrich, Judy Garland and daughter Liza Minnelli, and Clint Eastwood. Each of these public personalities are captured in intimate photographs.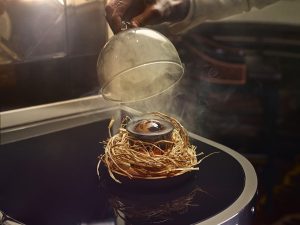 Bespoke cocktails are created for each image—creative, complex concoctions that the bartenders best feel reflect the personalities in the photographs displayed. A taste journey has been created with a map to show where each of the cocktails fall within the flavor spectrum. So, if you prefer something light and delicate, go with First Impressions (£18), a bevvie boasting Bombay Sapphire gin, yuzu wine, white pepper St-Germain elderflower liqueur, Champagne cordial and jasmine oil. It's a drink as complex as the first meeting between Ms. Taylor and Bowie when he kept her waiting for four hours.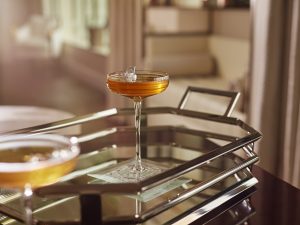 Yearn for something that's more intense and a touch mysterious? The Curtain Call (£50), based on a picture of regular guest Marlene Dietrich, is dark and deep, featuring Star of Bombay gin washed with sesame oil, Mr Black Coffee Amaro, Figaro Fig liqueur and Dom Perignon.
Another favorite is the Pinstripe (£20), created to go with a 1976 photograph of Mick Jagger dressed in a pinstripe suit. Its multifaceted flavors include Grey Goose vodka, apricot liqueur (a popular choice among sippers in the 1970s), floral tea-infused Muscat, lemon, Champagne syrup and lavender. Delicious.
Drinks are served simply without apology, letting the intricate strength of the cocktail speak for itself.
The bar itself is dim and seductive with a sophisticated yet relaxed feel. Declan McGurk, bar manager of the American Bar, oversees a team that is always on hand to offer suggestions and answer questions, even on busy nights. Private corners can be found for intimate conversations or you can join the more publicly visible crowds in the bar to be a part of the greater scene and perhaps join a conversation where everyone has their own story to tell.
(Photos courtesy of The Savoy, a Fairmont managed hotel)