World Ice Cream Day might be July 15, but Soneva, a luxury resort operator, has decided that there should be another 364 days on which to celebrate. Its properties in Thailand and the Maldives will be adding 30 new limited-edition flavors to its roster featured at its 24-hour ice cream parlors. Yes, 24 hours, as in every minute of every day. Imagine having ice cream available around the clock. It's almost too much to take in.
And here's a news flash. You won't find vanilla in the mix. These variations are way out of the carton. At the Maldives' Soneva Fushi, the flagship resort of the brand, you'll find Soneva Bread Fruit and Maldivian Pine Nuts, Strawberry with Aged Balsamic and Green Olives, and Curry Leaves with Sweet Mango.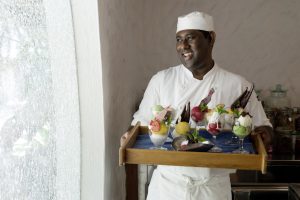 Meanwhile, its sister property, Soneva Jani, on the Noonu Atoll, dives spoon first into scoops of Yuka with Garden Basil, Seaweed and Caramelised Young Coconut, as you sit on the deck of your overwater villa. Those flavors join Rocket Leaf Sorbet, Garlic and Honey, Pineapple and Chili Sorbet, Salty Caramel, Roast Banana and Pistachio Milk.And to make sure that everyone can enjoy these creamy treats, a number of the ice creams and sorbets are vegan-friendly and low in sugar.
[tp_map_widget origin=MLE width=300 height=250 subid=""]
If the thought of Deep Fried 'Mango Sticky Rice,' and a combination of Sweet Potato, Fresh Coconut, and Caramelised Red Chili tantalizes your taste buds, book a suite at Soneva Kiri on the remote Thai island of Koh Kood. Or stick to the old tried-and-true tastes of Thai Tea, Taro, Tom Kar Mushroom and Coconut Coriander.
Can it get any sweeter? Why yes it can. Thanks for asking. All of the ice cream offered at Soneva's properties is complimentary. That makes us extra happy that our swimsuits are super stretchy.
(Photos courtesy of Antonina Gern/Soneva)