Exploring our planet for remote spots has its many allures—who doesn't want to be able to discover a place that is more than just off the beaten path? Choosing a lodge far from the known, that doesn't fill up pages in a guide book and only offers entertainment that can't be accessed by a screen, is a welcome option for the intrepid traveler.
A combination of planes, trains and automobiles (and sometimes ferries) may be the only way to get to these places and, for these accommodations, the journey will be rewarded with an unforgettable stay.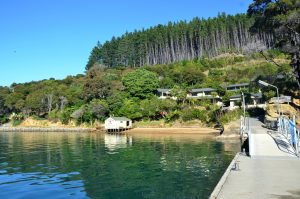 A 15-minute water taxi ride from the South Island port of Picton comes with the possibility of seeing dolphins and penguins before arriving at this eco-friendly wood lodge located on a remote area of the peninsula in the Marlborough Sounds. The simple rooms are found in four buildings on a hillside behind the main building, each with an outdoor deck overlooking the water to check out the nightly entertainment—the star-studded sky. During the day you can visit the lodge's wildlife recovery center, stop in at the art gallery to meet the current artist-in-residence or hike around the lodge property to different outlooks. The Lochmara lounge has a wood-burning fireplace, a perfect spot to indulge with a book after a day of exploring nearby wine country.
[tp_map_widget origin=AKL width=300 height=250 subid=""]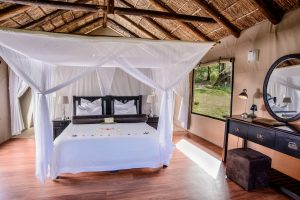 Overlooking the Makhutsi River, guests are welcomed into the reception tent with a refreshing cold libation before being escorted along the wood boardwalk to the room—a series of glamping tents found within the Karongwe Private Game Reserve in eastern South Africa. Each tent is a wood structure with a deck facing the river, canvas walls, and all the luxe touches needed within: a four-poster king bed with super soft linens and mosquito drapes, mini-fridge with cold beverages and a spacious bathing area. By day, you can go on safari in Karongwe Private Game Reserve for its big five residents and at night, after a hearty dinner in the main lodge, hippos, birds and many other creatures are your nightly soundtrack.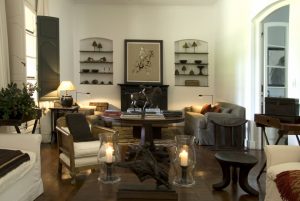 An hour-long drive on a rutted dirt road through the "pampas" in a La Bamba de Areco Jeep leads to an elegant 19th-century ranch, a Relais & Chateaux property located two hours from Buenos Aires. Red colonial-style buildings feature soothing earth-toned ranch décor: chocolate brown leather love seats, dark wood furniture, thick wool rugs, piles of books and black and white photography. Contemporary rooms, each named for a famous horse, are a minimalist's dream of iron or wood beds with a few curated pieces of furniture. You can go riding in the nearby fields on one of the ranch thoroughbreds, watch polo players perfect their moves in the practice ring or relax in a former barn now filled with stylish oversized chairs and couches, a quiet space for contemplation.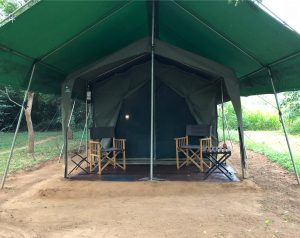 This eco-friendly tented camp is found near Udawalawe National Park, home to a large population of Sri Lankan elephants. To preserve the environment, Big Game regularly moves its location, each time offering a generous area for guests. Individual safari tents are traditional style with safari cots and camp chairs, include electricity and an adjacent tented area with shower, sink and composting toilets. A hammock in front of each tent provides a relaxing area to read or spot peacocks. After going on a game drive through the park, you can learn how to make traditional Sri Lankan dishes from the camp chef before enjoying a dinner of local cuisine and grilled meats, served by candlelight in the open air dining area.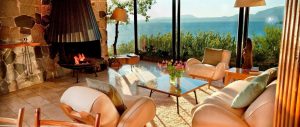 In the volcanic region of Villarrica, this mid-century modern hotel designed in the Bauhaus style is a surprising gem, found two kilometers from town and surrounded by extensive landscaped gardens overlooking a lake. Each room features native woods, modernist furniture and a wood-burning fireplace, with expansive windows offering a panoramic view of the gardens. Indulge in happy hour in the stylish sunken living room, filled with handmade furniture and unique artisanal décor. With numerous local adventures on offer like white water rafting, hiking and caving, this mellow hotel also includes the Antumalal Spa, with soothing hot pools and a refreshing cold pool.
(Featured photo courtesy of El Hotel Antumalal)