For many travelers, an unexpected hotel room upgrade is enough to make us feel like we've won the lottery. For those with unlimited funds, however, there's no such thing as an upgrade because only the best room in the house will ever do. Here's a look at some of the world's most lavish hotel suites.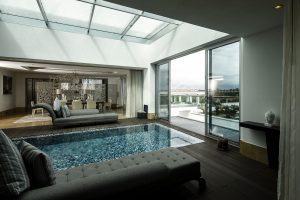 How does a personal butler, a private elevator, a lush terrace garden and your own infinity pool (with retractable roof!) sound? These are just some of the indulgences guests can enjoy while staying in the Conrad Algarve's Roof Garden Suite. The 3,200-square-foot retreat also comes complete with a full kitchen, floor-to-ceiling windows and your very own bridge to the property's spa. And if you get the munchies, you can simply request that your 24/7 on-call butler bring you a meal from the hotel's celebrated Michelin-star restaurant, Gusto.
Nightly rates start from €4,220 (US$4,955) in low season and €5,500 (US$6,548) per night in high season.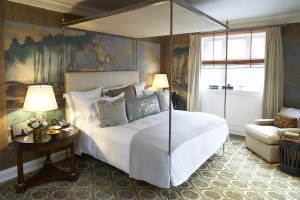 Not many penthouse suites offer guests a luxurious night's sleep, as well as a glimpse into a former President's sense of aesthetics. Calming, sophisticated and understatedly indulgent may best describe the Penthouse Suite at The Lowell, which was designed by interior designer Michael S. Smith (responsible for decorating the Obama White House). Just steps from Central Park and Madison Avenue, this three-bedroom, 3,000-square-foot urban oasis features no less than four private outdoor terraces (with wood-burning fireplaces!) overlooking Manhattan. A gourmet kitchen opens into an elegant dining room with a mirrored dining table by Jean de Merry.
Rates start from US$14,935 per night.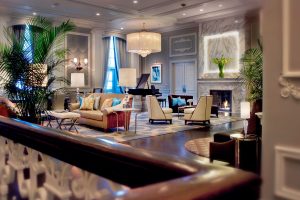 Sometimes great things can be found in unexpected places. Located on the city's famous Michigan Avenue, this two-story, 5,000-square-foot penthouse recently underwent a $1.8 million renovation. When you're not taking in the awe-inspiring views of Grant Park and Lake Michigan from your private terrace, you can cozy up inside by the dual-sided Carrara Gold marble fireplace or play a tune on the grand piano. The spiral staircase also leads to a dining room that can seat up to 14 people, a full kitchen and bar area, and a billiards room. All three bedrooms have their own lounge area, as well as bathrooms with freestanding soaker bathtubs.
Rates start at US$10,000 per night.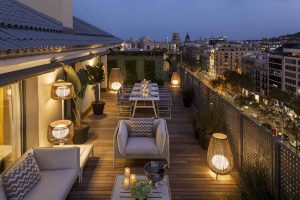 What better way to top off a trip to one of Europe's most popular destinations than with a stay in the city's biggest suite? Coming in at just over 5,000 square feet, the Majestic Royal Penthouse Suite gives guests the largest lap of luxury the city has to offer. Equipped with a huge bar area, two terraces (one with an outdoor jacuzzi) and a lounge area that can fit up to 14 people, it also boasts one-of-a-kind views of Gaudi's Sagrada Família. After a day of sightseeing, you can relax (or take a bath) while watching one of the suite's eight Bang & Olufsen flat screen TVs. To round out the experience, guests have access to a luxury automobile with chauffer and a butler.
Rates start at US$15,000 per night.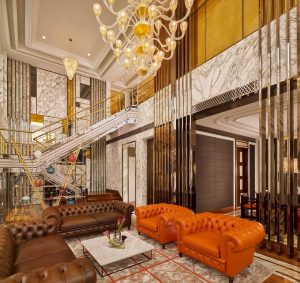 You'll no doubt think you've stepped into a dream if you ever get the chance to stay at The Reverie's over-the-top luxe suite. Words like opulent and ornate don't begin to describe the interior décor, which relies on royal reds, deep browns and bright gold tones to convey a sense of unlimited extravagance. The 3,300-square-foot accommodation is set over the 38thand 39thfloors and features a double-height, marble-clad dining room and living room, as well as a mirrored staircase. The floor-to-ceiling windows look out over the Saigon River and offer inimitable panoramas of the bustling city. Nice extras include butler service and free airport transfers in a Rolls-Royce Phantom Dragon.
Rates start at US$12,000 a night.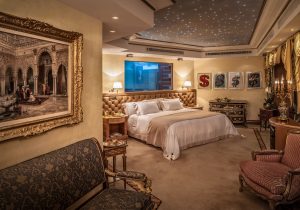 If you're visiting Rome's ancient ruins or touring Vatican City, a spiritual experience of another sort certainly awaits you in Rome Cavalieri's Penthouse Suite. Swarovski and Karl Lagerfeld feature heavily in the suite's 2,115-square-foot opulent interior, which also has a receding glass ceiling. Just in case you weren't sure that this accommodation is for the monied set, the master bedroom spells it out for you with four limited-edition Dollar Signs artworks by Andy Warhol. At night you can dine in the hotel at Rome's only three Michelin-starred restaurant, La Pergola, and afterwards take in the city's nighttime vistas while you soak in the hot tub on your private rooftop terrace.
Rates for the Penthouse Suite start at €10,795 (US$12,677) per night.
(Featured photo credit: Conrad Algarve/Filipe Farinha)