Designed by Philippe Starck, this 156-room urban refuge is one of nine Mama Shelters in the world, including five in France and one in L.A. Created by the same family that invented Club Med in the 1950s, Mama Shelter Lyon is atypical to say the least: a dizzying display of design-rich eye candy absolutely everywhere, including the chalkboard ceilings. Mama Shelter has been owned by France's Accor Hotels since 2014. Plans are in the works for five new locations, including London and Lisbon, in the next few years.
Street cred: It's all about location
This 156-room hotel is a 12-minute walk from the Rhône River, just a bit southeast of the center of Lyon. It is a 10-minute drive to the central quartier of Les Cordeliers and the old city. The Jean Macé Metro station and above-ground rail station are both a five-minute walk away.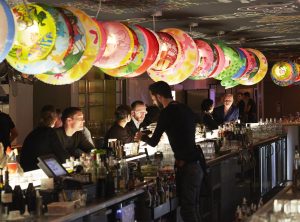 Who hangs here: Is this hotel for you?
"Mama is more than a building; it's a lifestyle." True to its word, the hotel is a haven for the young and artistic—and the young-at-hearts—creatives from the worlds of media, music, film, art and design.
The straight goods: What's in the room?
Simple, straight-forward comfort comes with a whimsical cheekiness in the form of cartoon character masks. White walls, lamps and desks, and neutral flooring is accented with pops of bright orange and lime green in the open closets and fridge nook. Throw in 100% cotton satin sheets and organic bath products, and you've got a "bare maximum" situation.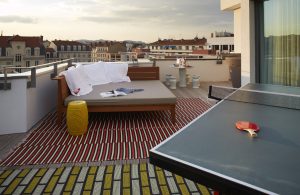 Bragging rights: What else has it got?
The rooms all sport full-size iMacs, so you can do your own thing: work, watch free movies on demand as well as regular TV, listen to music, surf the internet, Skype and access the digital concierge. The penthouse terrace sports a ping-pong table.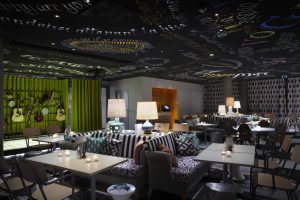 Good eats: Cocktails and cuisine
The restaurant is a feast for the eyes as well as the stomach, a swirl of color and light, almost overwhelming. Artful, Asian-inspired cuisine carries through all food menus, with a few French classics thrown in—you're in the capital of French gastronomy after all. The cocktail list is cool and the wine list is huge, even for France.
[tp_hotelmap_widget coordinates="45.74846, 4.84671″ width=500 height=500 zoom=12 subid=""]
A few of our favorite things: What stood out?
Free of parabens, PEG, phtalates, synthetic perfume and coloring agents, the organic Absolution bath products are certified by Ecocert Greenlife and made in France. "Mama loves you from head to toe." 
Parting shot: If we could change one thing
The value is incredible, but with that comes a flimsiness with regard to some of the furnishings.
"Small Mama" rooms from $84. Breakfast not included.