At some point, all of us have the desire to escape city life and chill in a tropical destination–to unplug, listen to the sound of languid, lapping water and sip on a properly made mojito. But some Caribbean islands have become bustling hives of activity. Between the pool aerobics, roaring jet ski motors and the deep house beats of a DJ, these destinations may not offer the sort of tranquillity that you want.
This is where the island of Nevis comes in. Long a destination for celebs wanting to hide out from the crowds (from Beyoncé and Jay-Z to Princess Di to Canadian Prime Minister Justin Trudeau), the island is known as much for its lush green hills as its coastline.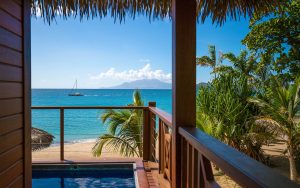 Nevis is the home of the discreetly posh Paradise Beach Resort, part of Small Luxury Hotels of the World. Situated on Nevis's western coast, the resort has just opened five luxe beach houses that sit on stilts overtop a private white sand beach. Considering the resort had only seven villas before, it's now virtually doubled its capacity to house solitude-seeking guests.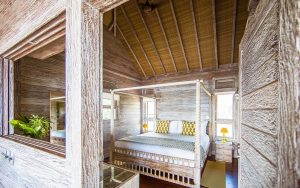 Designed by British interior designer, Naomi Cleaver, in a pleasing mix of whitewashed woods, each thatched beach house features two bedrooms, living room, dining area, a kitted-out kitchen and a wraparound deck with a private copper plunge pool adorned in azure, teal and opal tiles. Teak loungers facing the sea ensure a good view no matter what the time of day and outdoor BBQs mean a beautifully charbroiled burger is always close at hand.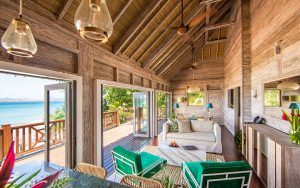 The decks lead into expansive living rooms, with open views and carefully placed mirrors to ensure you see the sunset and seascape from every angle possible.
Even though there is an outdoor grill and full kitchen, if cooking during your vacation sounds like a bad idea, the resort will send over a private chef, deliver a meal to your beach house or set you up at a recommended restaurant.
Besides lounging around in your beach house all day, you can also traipse through the forest during a guided hike, snorkel among the coral or wander through a World Heritage Site, all arranged by your private concierge, of course.
(Photo credits: Paradise Beach Resort)