There are few hotels in Montreal that are as beloved by locals as they are by visitors worldwide. The Ritz-Carlton is a place where there are special memories for so many locals, whether they've had Sunday brunch on the patio with friends or attended a wedding there. It's a hotel that is very much a part of the city's cultural tapestry.
The fact that it closed for almost a year in order to undertake extensive renovations with a price tag of C$200 million was a woeful occasion for many Montrealers. Now, the boutique property with 96 rooms and 33 suites is back in full swing—still hosting family gatherings, brunches, dinners, romantic getaways and business meetings. It's just that there is so much more to love about this seriously refreshed property—a staple in Montreal since 1912. It was the very first Ritz-Carlton in North America and helped set the standard for the properties that would come after it.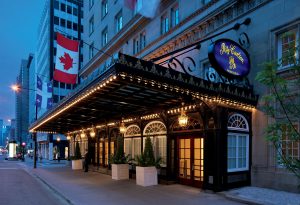 Street cred: It's all about location
Located on Sherbrooke Street in the heart of downtown, the hotel gives guests the option to stroll to a myriad of shopping, restaurants and attractions nearby. Put yourself in any direction and get walking and you'll discover something new and exciting about the city. Nibble your way through the chic bistros on Rue Saint Denis, or wear off the digits on your credit card at the shops on Rue Sainte Catherine. It's no coincidence that this hotel is chosen for its ideal location just as often as it is for its exemplary service and state-of-the-art luxury.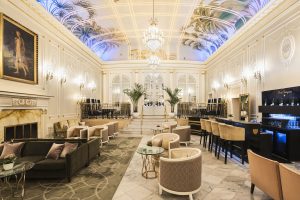 Who hangs here: Is this the hotel for you
Throughout its history, the Ritz has attracted the who's who in entertainment, politics, sports and business, from Marlene Dietrich to Winston Churchill, to Elizabeth Taylor and Richard Burton (who married onsite in 1964), Celine Dion, Queen Elizabeth and The Rolling Stones. That's not to say regular folk don't stay there. They do. Honeymooners, business people and tourists, too, with ample travel budgets also make up part of the hotel's clientele. Everyone's welcome. Though this is a luxury hotel, it still has a friendly, welcoming vibe.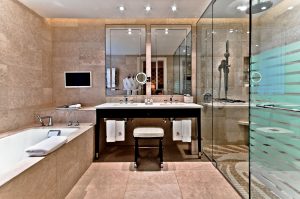 The straight goods: What's in the room?
My suite was packed with perks and practical amenities. It wins kudos for the large desk with easily accessible USB ports and outlets. It had a large sofa, perfect for watching the 47" LCD flat screen TV. It had a Nespresso machine and there was real milk and cream in the fridge. The marble bathroom was a dream. I particularly enjoyed the bum-warming capability of the fancy TOTO toilet, which also offered a gentle cleanse of my choosing. There was a shower and a tub, so all bathing options are available.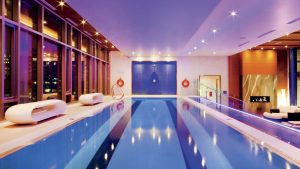 Bragging rights: What else has it got?
If you're not chilling in your room, you'll want to spend some time luxuriating at the rooftop saltwater pool, sauna and terrace, complete with lovely views of the Montreal skyline. The hotel also has its own florist shop, state-of-the-art fitness center and the St. James Spa onsite.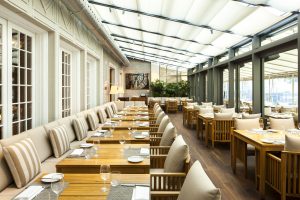 Good eats: Cocktails and Cuisine
The culinary standout is Maison Boulud, serving modern French cuisine just the way its namesake, superstar chef Daniel Boulud, would have prepared it. It has an open kitchen, which is always good entertainment especially during a busy dinner service. It's poetry in motion. It also offers a Sunday buffet brunch that still draws locals to its sun-filled terrace at the back of the restaurant.
Off the lobby, the Palm Court is an elegant space, a favorite among the ladies who lunch and sip crowd. Its high ceilings and fireplace make it an inviting airy gathering spot. This is the place to have a leisurely afternoon tea or to sip glasses of exquisite champagne from the well-curated list of the Dom Pérignon Bar.
A few of our favorite things: What stood out?
It's nearly impossible to leave the toiletries at the Ritz behind. They stock Asprey Purple Water, a luxury British brand, with a citrus scent kicked up with spicy notes.  Mine, mine, mine! I don't even leave the used bars of soap behind.
Hats off to front desk staff who were nice as can be. I received warm hellos and goodbyes every time I headed out of the hotel. There were also helpful with securing taxis without a hitch.
Parting Shot: If we could change one thing
My room had a serious tea deficit. I don't drink coffee and never have. There wasn't a tea bag in sight. I requested some black tea, but it never came. I was sad.
And just one other thing: There was supposed to be a lighting system that was motion activated—handy for frequent middle of the night bathroom breaks. It didn't activate. You'll be happy to know I still successfully navigated my way to the loo using my iPhone's flashlight function.
Michele stayed as a guest of the hotel. The hotel did not have editorial approval.