We know you already know how to be a good hotel guest. Your mom, dad and other responsible adults taught you that it's good manners to say please and thank you and to treat others with respect and kindness. Being a good hotel guest makes a stay even better, paving the way for good guest/host relations.
Consider this a refresher course on what it means to be the kind of guest that hotels are happy to see return again and again.
Here are seven tips to be the hotel guest staff will remember with fondness:
Curb the rockstar tendencies
Hotels value their guests. They are the reasons they exist after all, but there are limits to that relationship. They aren't going to like it when rooms are treated like a garbage bin or a dance club. Having respect for other guests wanting to enjoy their time at the hotel, too, is also a good plan.
Call if you're going to be late
The hotel really does care about what's going on with you. A reservation code confirms the room, but it's good etiquette to let the hotel know if your arrival has been disrupted and delayed by work or travel plans. A call, text, or email also ensures that they won't give your room away.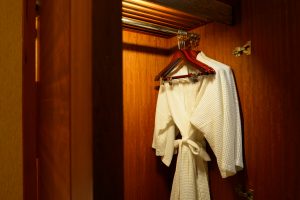 The bathrobe is off limits
Hotels keep track of the contents of every room. Shoving the hairdryer or the super-soft Frette robe in your suitcase is a bad idea unless you're prepared to be charged for it. If you really love something, ask if there's a way to buy one to take home. And when it comes to the housekeeper's cart, keep your paws off. Every member of the housekeeping staff must account for all the items on their carts so just ask. They'll be happy to bring more towels or glasses for use during your stay or more toiletries. And for the record? The toiletries in your room are factored into the room rate. If you like 'em, take 'em.
Speak now or forever hold your peace
If something's not right—an item missing from your room or it was never cleaned—report it to someone on staff sooner rather than later. Hotels want to make sure your stay is without incident. Let them know politely when something is wrong so the problem can be fixed while they can still fix it.
Ask and you shall receive
If you have a special request, give the hotel as much notice as you can. They understand that having a birthday cake in the room to surprise your bestie or wanting a late checkout is important to you. Demanding it at the last minute means that the hotel, as much as they may want to give you what you want, might not be able to accommodate your request.
Dress for the occasion
We know you're stylin' but, unless you're in Cabo or the Caribbean on the way to the pool, cover up that rocking bikini. Wandering around without appropriate attire in the lobby or restaurants will only detract from the business-at-hand because, really, who could keep their eyes off of you? Toss on a tee, shorts or a dress to keep from committing a fashion crime.
Show your appreciation
Be sure to tip those that make your stay—doorman, concierge, housekeepers, restaurant wait staff—memorable. Making a point to say thank you is always a good idea no matter who or where you are.