When a hotel brand looks to broaden its offerings in an effort to appeal to as many customers as possible, it usually expands its properties to include long-term stay spots, adults-only options, a boutique hotel within the larger property and buy here/live here residences for those of us who have always dreamed of living large in luxurious surroundings.
Four Seasons Hotels and Resorts has done those things and more. So much more. It launched its private jet service in 2015 and, since then, it has been taking off (pun intended).
The itineraries include places near and far, and all of them include stays at Four Seasons properties or, in some cases, a private boat or a partner luxury hotel, with every little bespoke detail planned out for you.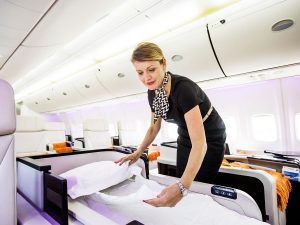 While aboard the private jet, you are pampered and cared for at a whole new level. Champagne and caviar are a given, but you'll also find an on-board executive chef to prepare your filet mignon just the way you like, a crew that knows to have your favorite bevvie waiting for you when you get back on the plane and even whether you like to nap midflight or not and, if you do, how you take your coffee when you awake. Service includes door-to-door baggage delivery so you'll never have to worry about ruining your manicure. All you need to worry about is you and, if you need someone else to worry about you in the mix, there's even an on-board doctor.
These trips are popular. After Four Seasons' 2018 World of Adventuresexperience sold out in its inaugural year, the hotel chain has just announced its new World of Adventuresitinerary for 2019. For a cool $143K, this is where you'll be going in a 24-day trip that will pamper you 24 hours a day.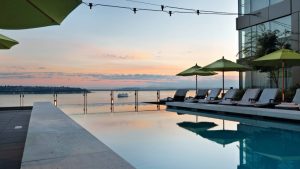 Seattle, USA–Oct 23-24
After arriving in the city by the sea and having dinner with your fellow adventurers at Chihuly Garden & Glass, you'll bed down for the night at the Four Seasons Seattle. Its sleek gray-stoned and wood interiors and warm palette ensure you nestle in comfort before your big travel day tomorrow. Try to fit in a dip in the rooftop pool, looking out over Elliott Bay.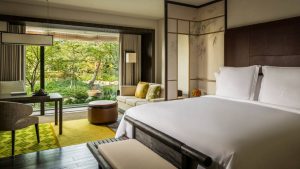 Kyoto, Japan–Oct 25-28
If you're ready to swing a katana, you're going to love it here. One of the experiences this Four Seasons itinerary offers is a samurai training session with the Japanese master, Tetsuro Shimaguchi, who was also the choreographer of Kill Bill: Volume One. If learning how to roll sushi with a Michelin-starred chef is more your cup of tea, there's that, too.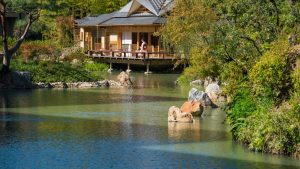 Each night, you'll settle in at the Four Seasons Kyoto to revive your good juju for the day ahead. A new hotel that surrounds an old–make that ancient–800-year-old pond garden, the hotel is designed in a chic modern Japanese style that still sticks to its traditions with shōjiscreens and washi-paper lamps. A stay in this hotel wouldn't be complete if you didn't cross over the glass-floored bridge to the tea room for a traditional ceremonial tea. And go for a green tea; Kyoto is its birthplace after all.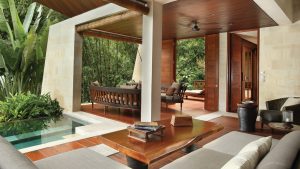 Bali, Indonesia–Oct 28-31
If you can tear yourself away from this intimate, 60-room hotel immersed in the lush Ayung River Valley, do, but it's gonna be difficult. Each private villa has its own plunge pool with views to covet, outdoor showers and open living rooms where all you hear is the trickling of water and nature surrounding you.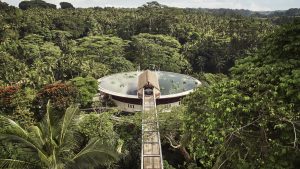 After taking a meditative yoga class or participating in one of seven chakra ceremonies at the resort–or what the heck, all seven of 'em–you'll be ready to face the outside world.
If you're feeling antsy to get a bit more active, Four Seasons set up a whitewater rafting trip on the Ayung River top get some adrenaline going. If you're still keen to keep up the spiritual vibe, you can partake in a water purification ritual led by a Balinese priest.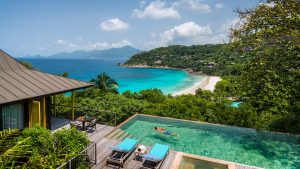 The Seychelles–Oct 31-Nov 3
The Seychelles offer some of the most beautiful beaches in the world so if you're going to have a beach day, this is the spot. The Four Seasons Seychelles sits on a hilltop perched above a horseshoe-shaped, white-sand strand of coastline. After chilling for the day, follow the resident yogi to a plateau above the Indian Ocean to finish the day with Downward Facing Dog as the sun sets. Your treehouse villa with private pool awaits.
Rwanda, Africa–Nov 3-5
Since there is not a Four Seasons property in Rwanda, it has handpicked five boutique lodges for you to take in the sight of the Virunga Mountains from your suite.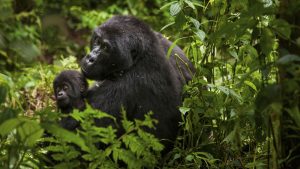 This is gorilla country so if seeing a baby gorilla makes your heart leap, this will be a particularly poignant stop for you. One of the itinerary options is to trek into the thick of the Volcanoes National Park rainforest to see these gentle giants in action in their own habitat. You can even talk to the doctors whose directive is to care for these endangered primates.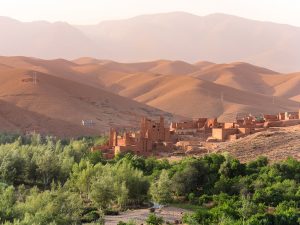 Marrakech, Morocco–Nov 5-8
The Berber village of Armed rises from the clay soil in the foothills of the Atlas Mountains like a real-life sandcastle. Here, you'll try authentic Moroccan food and have tea with a local family. This is one of the excursions you can choose when in Marrakech. Another is having your very own personal souk shopper to help you find a keepsake to take home–or ship, since a Berber carpet isn't considered carry on. For something quite unexpected, visit the new Yves Saint-Laurent Museum to discover how much the fashion guru was inspired by Moroccan design.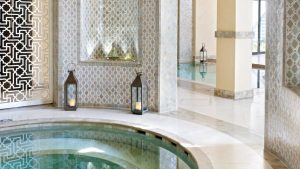 In your downtime, you'll be laying low in the Four Seasons Resort Marrakech, tucked into its 40-acre Moorish garden. Your cool cream hotel room has a private patio where you can sip on a mint tea in your private cabana, of course, or you can join the rest of your fellow travelers at the adults-only pool.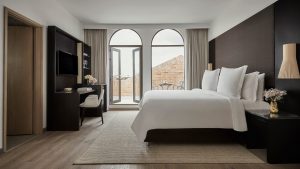 Bogota, Colombia–Nov 8-11
You can tell you're now in the land of coffee. The Four Seasons Bogota's rooms are done up in every shade of coffee there is: black espresso, coffee with cream, macchiato foam…. You get the idea. Modern and slick, you know you're back in the city at this stylish hotel set in one of the nicest neighborhoods.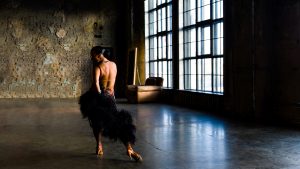 Learn how to sashay during your private salsa lesson, sip champagne while exploring a private museum, become embroiled in the art of making the best cup of Colombian coffee you can, or simply explore the sights and sounds of city life.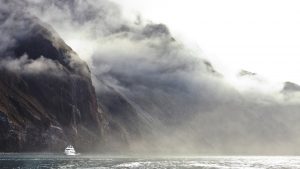 Galápagos Islands, Ecuador–Nov 11-14
That's right: Four Seasons has chartered an entire cruise ship for three nights just for you (and your 50 new friends). Cavort with flamingos, snorkel with sea turtles and drop a postcard back home at Post Office Bay. Every day brings a new sight as you arrive at another one of the 18 islands that make up Galápagos.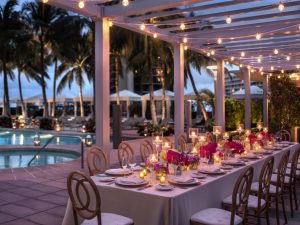 Miami, USA–Nov 14-15
And your around-the-world circle is pretty much complete when you arrive in the city of Miami. All that's left is a farewell dinner at your hotel, the posh Four Seasons Miami.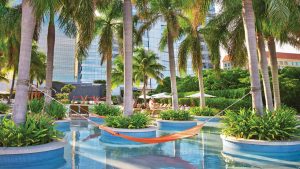 Hanging out in a hammock suspended from palm trees by the pool sounds right on until then to keep your vacay vibe going or you can always stay on a few days longer. Feeling that constant Miami pulse may slowly start to rev you back up.
Other 2019 Four Seasons Private Jet itineraries include: Latin Escape (Feb 9-24), International Intrigue (Mar 25-Apr 17) and Timeless Encounters (Sep 17-Oct 10). They include air travel aboard the Four Seasons Private Jet, ground transportation, planned excursions, all meals and beverages and accommodations.
(Photo credits: Four Seasons Hotels and Resorts)