What's the deal with Viceroy? Every hotel chain boasts that it is unique and has its own vibe. With the Viceroy Hotel Group, you can sense there is a difference. That's especially true with its latest luxurious addition—the 15thproperty under its chic and ever-expanding umbrella—Viceroy Los Cabos.
Located in the heart of San José del Cabo on the picturesque coast of Baja California, this opening is a 194-room masterpiece that has re-emerged as a Viceroy property following renovations and enhancements. It taps into the natural beauty of water throughout every facet of the resort, focusing on cinematic views and alluring experiences around every turn, from the beachfront pool and bar to new dining venues and a state-of-the-art fitness center.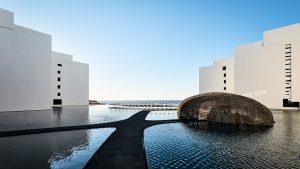 The underlying themes that tie everything together are: luxury, modern and catering to the individual. It starts upon arrival as guests step through a sculpted iron portal and artisan wooden door and are greeted by the sound of water—the central element throughout the resort. Though posh, the feeling is also minimalistic and fresh with a palette of blue and natural sand tones, a nod to the point where the Los Cabos desert and sea meet.
Naturally, food and drink are front and center with five distinct and reconstructed dining venues, each inspired by the history and culture of Baja. Among the highlights is Nido, translated from Spanish to mean "nest." It is a visual standout with its dramatic latticed, nest-like structure surrounded by elevated walkways. It appears to float on water. Flavors from Spain, Mexico and Peru come together in handcrafted cocktails and an expansive ceviche menu.
Meanwhile, Casero Restaurant and Otro Bar feature elevated homestyle Mexican cuisine and a tequila library, stocked with house infusions such as chili and marigold.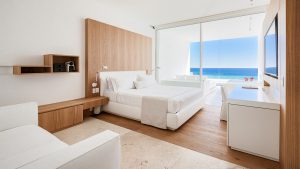 When not eating or drinking, there's a serious roster of experiential activities for guests, courtesy of the hotel's Head of Vibe (yep, that's a real job). Perhaps you can learn to surf with a local pro, embark on an exclusive fishing experience with the chef, go scuba diving and hone your underwater photography skills, or mix it up at a tequila-making class. It underscores Viceroy's credo "Remember to Live," encouraging meaningful engagement and participation to squeeze every bit of enjoyment out of every vacay.
Guests should venture off the property since they are just minutes away from downtown San José del Cabo. Roam the city and explore its weekly art walk, Colonial architecture and dynamic mix of authentic dining options.
The Viceroy Los Cabos joins the Viceroy Riviera Maya, a romantic luxury resort in Playa del Carmen. Watch for a slew of hot new openings happening worldwide with Viceroy properties popping up in Serbia, Argentina, Panama, Portugal and Vietnam.
Reservations for Viceroy Los Cabos are currently available with a starting room rate of $420.
(Photo credits: Viceroy Hotel Group)