In the world of cocktails, British-born Angus Winchester is like the king. Not the autocratic kind (he doesn't even like to go by the popular moniker, mixologist–he says he is an old-fashioned 'bartender'), but the kind that leads his people to greatness.
Crafting cocktails for hotels just makes sense for Winchester. He travels so much that he longer has a fixed address where he can lay his head. He is comfortable in hotels and in creating cocktail menus that serve the needs of the bartender, i.e. to prepare a good drink every time with a certain degree of speed, and also the hotel guest who wants a satisfying sipper to remind them of home, yet is different enough to reflect being in a distinctive destination that has taken them away from the daily routine of life.
This mix of familiar and exotic is exactly what he has designed for InterContinental Hotels & Resorts in its Worldly Classics Cocktail menu, representing some of the hotel brand's most well-known properties.
Recently rolled out across some of the company's North and South America hotels, the line up includes tasty riffs on popular cocktails like the daiquiri, Tom Collins and old fashioned.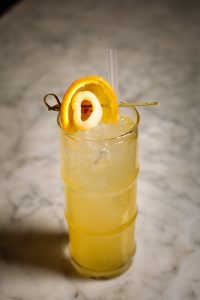 The Mandarin Imperial gives a nod to the Tom Collins, inspired by the InterContinental Beijing, with gin, lychee and mandarin liqueurs, fresh lemon and soda. The showstopper is the Mexican Fire & Ice, a modern take on the daiquiri by way of Mexico. Rum, lime juice and agave nectar are shaken and poured into a flaming cinnamon-laced martini glass before being doused by fine fizz to finish it off. While it's a drink with sizzle, most of the cocktails aren't as elaborate. For instance, the hotel's version of the old fashioned is the Indonesian Nu Fashioned, based on the InterContinental Bali Resort. It swaps out the sugar in the original with dark crème de cacao to give it a darker edge and more luscious mouthfeel.
In total, there are 11 revisited worthwhile libations on the Worldly Classics Cocktail menu. To see where you can go to imbibe one or two, visit the company's website for locations.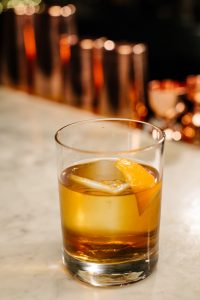 In the meantime, though, here's one to take you home:
Indonesian Nu Fashioned  (one serving)
2 oz Woodford Reserve bourbon
3 bar spoons crème de cacao
3 dashes Angostura bitters
Add all ingredients to an ice-filled mixing glass and stir well.
Strain into an ice-filled old fashioned/rocks glass.
Perfume with orange zest and an orange twist.
(Photos: InterContinental Hotels & Resorts)