Fans of Raffles Hotels & Resorts  will be pleased as punch – especially if that punch is a Singapore Sling, first created by Raffles bartender, Ngiam Tong Boon, in 1915 – to hear that this luxury leader is set to open its first North American mixed-use property.
And it's chosen city? Drum roll, please… is Boston. You will have to be patient, though. It's grand opening is set for 2021, but good things come to those who wait.
The Raffles Boston Back Bay Hotel & Residences will launch in the city's posh Back Bay neighborhoodin the midst of high-end shops, restaurants, Trinity Church and the Back Bay Train Station. It will also be within walking distance to gallery-laden Newbury Street, the Museum of Fine Art and Fenway Park, home to the mighty Boston Red Sox.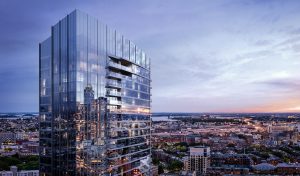 With 147 rooms and 146 residences in a brand-spanking new 33-storey building, it will join the rest of its 12 Raffles brothers and sisters found in Europe andAsia Pacific under the AccorHotels parent brand.
Some of the things to look forward to are a two-storey-high lobby overlooking Copley Square, five food and beverage venues, including a rooftop garden terrace and lounge, plus a spa with an indoor pool for guests to work off some of those in-house snacks and imbibed cocktails.
The design group responsible for fashioning this interior grandeur is Stonehill Taylor, while the glass-clad building will be created by a local firm, The Architectural Team Inc.
(Renderings: Raffles Hotels & Resorts)