Hotels work hard at ensuring that every guest has a positive experience. That said, they sometimes miss the mark and we don't mind pointing that out. As a public service, we'd like to offer this helpful list of things that really twist our panties:
1. Charging a resort fee
Want to see a hotel guest lose their mind? Tack on $50 or so per night to their bill and let them discover it upon checkout. No one likes this so just quit it. Either bury that charge in the room rate or go for an à-la-carte approach and let guests pay for out-of-the norm amenities, whether it's paddling a kayak or putting your progeny into a kid's club for an afternoon.
2. Pillow talk
We know that throw pillows on the bed are a big décor trend right now but hold your horses. They don't belong in a hotel room where they are used and abused by many guests. Ick. Ew. Knock it off.
3. That crack is whack
For some people, ambient light in a hotel room interferes with our quality of sleep. We embrace the darkness. We've had to stick towels along the crack at the bottom of a hotel door to block light from bright hallways and clothes-pinned drapes together to get rid of that annoying slit that lets in light at the crack of dawn.
4. Just say no to Coffeemate
Powdered packets of faux, chemical-laced Franken-creamer should be banned. Let's keep it real. Stick some wee white cups of milk and cream in the bar fridge and everyone will be happy.
5. Stickers on toilet paper
High-end hotels seem to want to prove they are being fastidious about all the tiny details that go into a room. Placing a sticker on the folded end of the toilet paper is a detail too far. When it is torn off, the toilet paper gets ripped up, too. Just don't.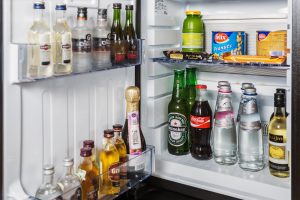 6. Jacked up mini-bar prices
This is a classic complaint and it's not going away. Paying 10 bucks for a bottle of Evian water is just plain cuckoo. Yes, we know hotels have a lot of overhead, but let's get real.
7. Key cards that don't work
Nothing is worse than lugging all your stuff up to your room and the key card fails you. Back to the front desk, which in a big resort is quite a hike, to get another one. Please oh please, front desk staff, give the cards a quick check to make sure they are working.
8. No more find-the-outlet game
Most guests want their phones close by, charging over next to them on a nightstand. That's not a hard concept to grasp, right? So why do hotels still not have plugs handy to the bed. Some are offering lamps and such with built-in USB ports. Let's embrace that.
9. End coffee prejudice
While some of us are serious Nespresso power users, some prefer the tastiness of tea and are offended when only in-room coffee is offered. That's just insani-tea! How about mixing it up a bit and supplying tea bagsandcoffee pods? Wouldn't the world be a better place?
10. Barbie-sized bath towels
Our happy place is being able to exit a shower and grab a soft, fluffy bath towel and wrap it around ourselves. Lately, we've noticed that we're being short changed with tiny towels. Go big or go home, we say. Let's stock those bathrooms with larger bath sheets.
11. Pretentious guest stationary
Some schmancy hotels will have business cards made up for their guests, like Wanda Wachowski, In Residence, The Park Manor Hotel, with matching letterhead. There are a couple of issues with that. First, who the heck handwrites letters anymore? Second, business cards are also passé. Neither gesture is necessary in the wired age.
12. Say bye bye to cheap ply
We're always a bit shocked when we discover cheap, chintzy thin toilet paper in a high-end hotel. One's bathroom experience must be impeccable from the bottom up. (Yes, we just said that.) Two or three ply, please. You aren't a roadside gas station.
13. Too tiny bedside tables
Guests travel with stuff—quite a bit of it and they often want it close by. But if the nightstands are too wee, there's no room for things like toiletry bags, laptops, iPads, phone and charger and a bottle of water. Yes, they—and the lamps on them—might be very design-y and trendy, but if they don't leave room for a decent amount of crap, then they're dead to us.
14. The heck with tech
It's nice that hotels are always trying to stay ahead of the curve by introducing more technology into their guest rooms, but if it's not user friendly, then skip it. We've seen televisions and thermostats that would require Mensa-level intelligence to turn on. Having to call down to the front desk to ask how to use the remote makes a guest feel like a "yuge loser!"