Quebec's Group Germain Hotels recently opened an ALT Hotel in St. John's, bringing the brand's sleek and urban no-frills simplicity to Newfoundland and Labrador. Plain but punchy, the cute little 148-room, four-story grey box brings the total number of ALTs in Canada to eight, the hotelier's second in the Atlantic provinces.
Situated on the corner of Water and Prescott Streets, the new ALT is close to some good shopping, cool restaurants and the St. John's Convention Centre, making it a solid choice for the leisure, bleisure and business crowds. Facilities include a fitness center, a sizeable outdoor patio overlooking the St. John's harbor and 4,000 square feet of event space. There's no dining just yet, but a coffee shop and restaurant are slated to open later this year.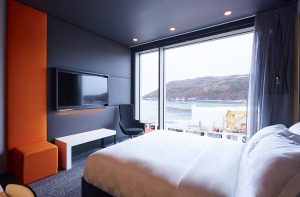 One of the perks of the ALT hotels is that there's no fluctuation with regard to the seasonal rates so the price is the same whenever you stay. One can only hope other chains take note: Side-stepping the sour grapes caused by big-event-weekend gouging might do wonders for business throughout the rest of the year. Perk number two? No check-out time. Keep hitting that snooze button as much as you like.
Eco-friendliness comes in the form of geothermal heating and cooling powered by the ocean, energy-efficient lighting and a heat-recovery system.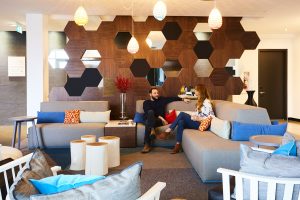 Elements of the local landscape were worked into the hotel's design, including the incorporation of an old cellar, a remnant of a centuries-old Marshall Brothers store. A lobby mural created from more than 3,500 original images by local photographer Michael Winsor is an homage to Newfoundland and Labrador's unique landscapes.
ALT has locations in Winnipeg, Toronto, Ottawa, Montreal, Brossard, Quebec City, Halifax and now St. John's. Watch for new ALT properties to open in the next year or so in Calgary and Saskatoon. The group is shooting for 20 ALT hotels coast to coast by 2020.
(Featured photo credit: ALT Hotels)