The sun, sea and sand in South Beach more than deliver when it comes to quintessential Miami R&R. But there's only so much beach adventure you can take before it's time to slick back your hair, throw on a linen shirt and get your drink on. Here are five hotel bars that rate high on the fun-factor scale.
The terrazzo floors of the Morris Lapidus-designed Lobby Bar at the Eden Roc have welcomed the footsteps of Frank Sinatra, Katharine Hepburn and Nat King Cole, who sang "Unforgettable" for the first time in what is now the Mona Lisa Ballroom. Elizabeth Taylor used to circle the sunken bar, carrying on out the door if she didn't see anybody worth hanging out with. Fittingly, there's a cocktail in her honor—a mojito-like concoction with muddled pears, pear vodka and sparkling rosé. The bar was given an update recently by designer David Rockwell.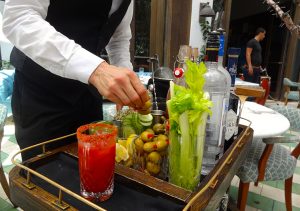 While the Soho is a member's-only club/hotel, the main-floor courtyard houses Cecconi's Miami Beach restaurant, which is open to all seven days a week. The bar is long, lean and comfortable: green and white tile floors, tufted sofas, fairy lights in the trees. Expect classic Italian here, including handmade pasta. The incredible Sunday brunch spread takes over the whole lobby: salmon tartare made to order, whole grilled mahi mahi, flatbread pizza with Parma ham—and a Bloody Mary cart that wheels around making everyone feel happily warmer in the Miami heat.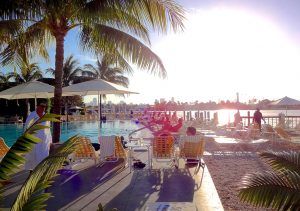 The Lido Bayside Grill is a true local hangout, the name an homage to the hotel's original name: Lido Spa Hotel. Thirsty regulars congregate beside the pool at the low four-tops or along little banquettes built around flat-leaved sea grape trees. Gorgeous servers keep Ketel One martinis coming as fast as you can throw them back. If you're peckish, the menu features healthy, Mediterranean-style fare focusing on grilled organic meats and fish. This is one of the city's most beautiful spots for a nightcap at the water's edge and quite fun at Happy Hour, Monday through Friday from 4 to 7 p.m.
The Met's Traymore Gin Bar manages to be both modern and nostalgic for the old Miami spirit. The bar's claim to fame is its dedication to gin: They stock more than 30 artisanal varieties—not just premium, but super-premium, according to the hotel. Original pink and pistachio flooring is offset with white scalloped drop-ceilings, white walls and white rattan chairs. The whole place smells heavenly of the hotel's eucalyptus and geranium signature scent.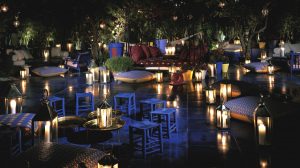 The glamorous Skybar is catnip to the in-crowd, which flocks here to make the scene amidst the fountains, pergolas, billowing curtains and cobalt accents. The Redroom Garden, open until 2 a.m. on the weekend, is like an outdoor living room replete with handmade lanterns, tropical plants and Asian-style furniture. Add in name-brand DJs, specialty cocktails and smart outfits and you've got a night out. The white-sheered Rumbar, open until sundown, has more than 75 different rums to taste-test.
(Featured photo credit: Eden Roc)