For sun destinations, a travel packing list should include the four Ss—swimsuit, sandals, shorts and sunscreen. Beyond the essentials of soap and shampoo, this valuable S is a good reminder to those on vacation to slather on the sunblock before becoming a sun worshipper.
And with travel rules limiting the size of toiletries for carry-on and travelers wanting to save on checked luggage costs, here's some good news: several hotels, especially in popular sun destinations, are now offering sunscreen as one of their complimentary amenities for guests.
Keep these hotels in mind when making travel decisions in sunny spots from Hawaii to the Caribbean.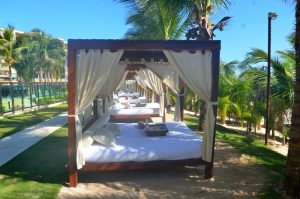 El Dorado, Azul Beach and Nickelodeon all-inclusive properties in Mexico, Jamaica and the Dominican Republic have offered complimentary sunscreen to guests since their first hotel opened in 2008. Look for dispensers near the pool or at the beach access areas, served with a side of lifestyles magazines and paperbacks for lounge time.
ME hotels, located in London, Miami, Ibiza, Mallorca, Madrid, Sitges, Milan and Cabo San Lucas, offer guests complimentary sunscreen in-room and with chilled bottled water poolside. At ME Ibiza, Apivita Sun Care milk in 30 SPF is a welcome freebie, made with natural and organic ingredients such as sea lavender and propolis.
This luxe brand offers complimentary Sun Bum sunscreen to guests to ensure a glow and not a burn. At Hawaii properties like Hualalai on the Big Island, hotel guests are offered sunscreen, aloe vera, moisturizer, chilled drinks and reading materials to make the most of a sun holiday.
These adults-only all-inclusive resorts found in Mexico, Dominican Republic, Jamaica and Costa Rica provide an in-room amenity of 30 SPF sunblock and also offer sunscreen at select Dreams and Breathless resorts too, making it easy to get into vacation mode.
This group operates Aqua, Inspire, Lite and Aston hotels and resort in Hawaii and offers complimentary good-for-you and good-for-the-environment sunscreen to guests. As part of their commitment to protect the delicate coral reef system surrounding the islands, the hotel chain offers Raw Elements sunscreen, free of BP-3, which is toxic to the reefs.
This sunny destination has made its beaches even more attractive by being the first American city to offer complimentary sunscreen dispensers at the beach, pool and parks since 2015. The hypoallergenic formula has natural ocean extracts, vitamin E, cocoa seed butter and apricot kernel oil.
(Featured photo credit: Waheeda Harris)