When you step through the doors of the 116-room Vincci Via 66 in Madrid, you're greeted with a smooth dose of old Hollywood glam. The lobby sets the stage, dressed in black and white marble. The reception desk is framed by a wall of floor-to-ceiling backlit photos that bring you back to a world that no longer exists, pre-World War II.
Hints of red and chrome complete the look that carries through the rest of this stylish little hotel, which is in the middle of Madrid's theater district and steps from some of the best shopping and dining in the Spanish capital.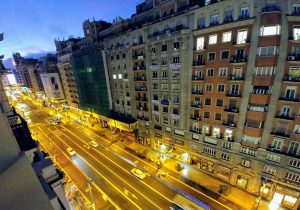 Street cred: It's all about location
Vincci Via 66 is in Centro, the capital's central district. That puts it smack dab in the middle of most of Madrid's historic sights. Plaza de Espana is a block away, while the Palacio Real, Plaza Mayor and Puerta del Sol are each a 15- or 20-minute stroll.
Some of Madrid's top theaters are close by, but are just one of many draws on the Gran Via. The street is perhaps best known as one long shopping district with both local and international brands. There are also hundreds of restaurants for when you're ravenous but want to check out what's outside of the hotel.
Who hangs here: Is this hotel for you?
The hotel has a contemporary boutique vibe that is best suited to younger business or pleasure travelers on a budget. You're unlikely to find any celebs here, except in the old black and white photos on the walls. Families with older children will feel at home too.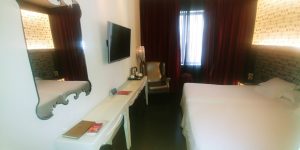 The straight goods: What's in the room?
We stayed in a comfortable double room that featured two single beds side-by-side. Amenities won't wow, but they will certainly suffice. There's the usual wall-mounted flat-screen TV, safe, coffeemaker and fridge. There are also plenty of plugs to charge your tech.
The hotel went fancier with its lights, offering pre-programmed settings on a touch panel located in several places in the room, including bedside. Free WiFi is included.
There are plenty of large mirrors and enough floor space that two people won't feel too crowded as they go through their nightly routines.
Rooms range from the larger executive rooms to adapted rooms for the disabled, making the hotel fully accessible (something that can be difficult to find at this price point in Europe).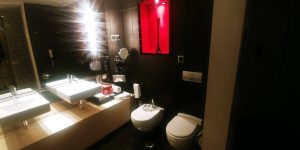 The bathrooms are nice and large with all the necessary mod-cons. Accessed by a sliding door, bathrooms in the double rooms feature two sinks, a bidet, toilet, hair dryer, and  a deep tub and shower combination. The shower is one of those unfortunate designs that looks stylish, but is impossible to keep the water from splashing everywhere. Be prepared to use the floor mat to mop up a bit when you're done.
The hotel has a few spa services, including therapeutic massage, anti-stress facial massage and reflexology.
The entire hotel is mercifully smoke free, too.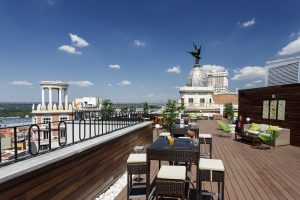 Bragging rights: What else has it got?
The hotel boasts a wonderful rooftop terrace that is exclusively for the use of hotel guests–relax and enjoy some of the finest views of the Gran Via and old Madrid. It's open all year long, though food and bar service is only open in the evening during the warmer months (April through October). But if you can bring yourself to face the chill in December, you'll see the Gran Via lit up like a spectacular Christmas tree.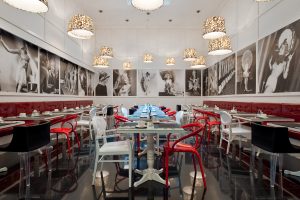 Good eats: Cocktails & cuisine
The breakfast buffet is quite good with a large amount of choice, from traditional Spanish fare (including tortillas and a variety of cheeses and cured meats), to more international selections such as eggs, bacon, cereals and pastries. Expect to see a selection of juices and enjoy the coffee machines which serve single cups. Add some warm milk to make it "con leche" or some chocolate to make it sweet and mocha.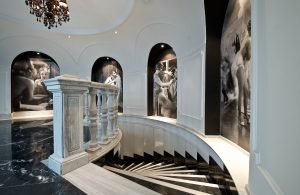 A few of our favorite things: What stood out
The highlight of the hotel was architectural: One of the most striking features of the hotel is its dramatic spiral staircase. With so many selfie opportunities up and down the length of the thing, it's enough to make you want to take the stairs down for breakfast instead of the elevator.
The staff also stood out–they are well trained, multilingual and extremely pleasant–from front desk to housekeeping and  breakfast servers.
Other than that, the hotel scores top marks for its location and views.
If we could change one thing
One gripe is that the hotel is in need of some basic maintenance. We don't know how long it has been since the property has undergone a makeover, but we noticed things like lifting floor tiles and water-stained ceilings in some of the rooms.
HotelAddict found standard double rooms available in May 2018 for €178 ($215) not including breakfast and €207 ($250) with breakfast which is, after all, the most important meal of the day.
(Featured photo credit: Lynn Billard)